A bumper week for new menu items! Taco Bell, SONIC, Popeye's, Papa John's and Jack in the Box all report new and returning dishes. Snacks News also abounds, with Rotten brand gummies, Ben & Jerry's, Quaker and MTN DEW all chiming in…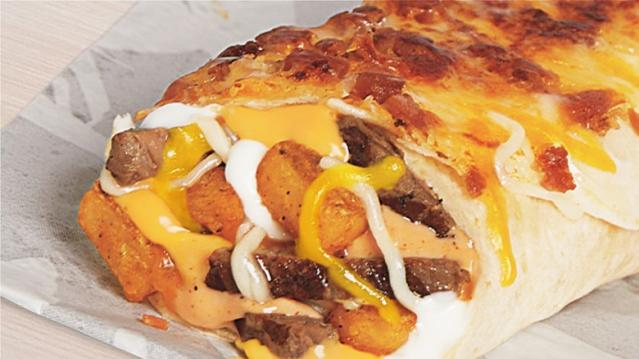 Taco Bell's new Steak and Bacon Grilled Cheese Burrito…
Taco Bell rolls up Steak Dinner in a tortilla
The Bell has launched what many may consider the heartiest, yummiest member of its Grilled Cheese Burrito family. It's the Steak and Bacon and it features: grilled steak, nacho cheese sauce, Creamy Chipotle sauce, fried potatoes, sour cream, and a mozzarella-cheddar-pepper jack cheese blend. As you might expect, it's available for a limited time.
SONIC breaks-in new Burgers
Burgerdom, make room for two new creations: the Hickory BBQ Cheeseburger and the Garlic Butter Bacon Cheeseburger, both from SONIC. They're up-marketed versions of Sonic's basic burger. And they're savoury, not spicy – a nice break from the relentless round of 'my spicy is hotter then your spicy' the Burger World has been playing on recently.
Shaq-A-Roni Pizza back at Papa John's
The extra-large, extra-cheese, extra-pepperoni extravaganza with extra-large ('Shaq-sized') slices is back at Papa John's for its annual limited time run. It's named after PJ's board member and franchisee basketball giant Shaquille O'Neal. A pie the whole gang can sink their teeth into!
For the Heat-and-Eat Crowd: Tyson does Air-Fry
Tyson Chicken has released a new frozen treat: Air Fried Perfectly Crispy Chicken Breast Strips. They go direct from freezer to oven and then into your fave chicken dip.
And they're apparently a lot healthier! Tyson says they have 75 percent less fat and 35 percent fewer calories than traditional fried chicken strips.
Popeye's teams with Truff
Truff is the brand that made 'affordable' truffle condiments famous just before and into the COVID Era. Now it's partnering with Popeye's on a new spicy sauce for Chicken. Truff Spicy Mayonnaise is a simple blend, marrying red jalapeños, mayo, and black winter truffle flavours.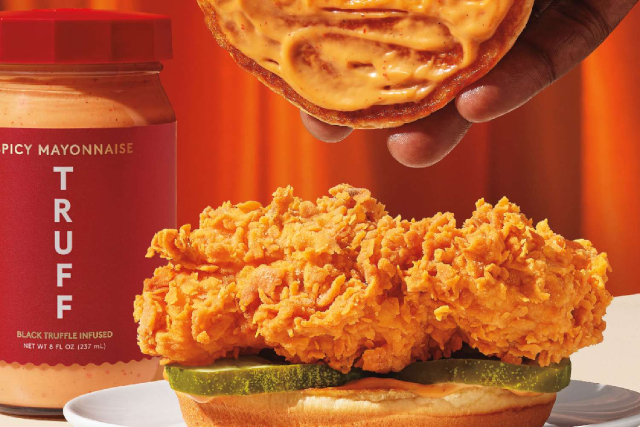 It's meant to take Popeye's Fried Chicken Sandwich to the next level. In a parallel promo, Popeye's running a TikTok contest #PopeyesContest where fans can enter to win a spot on the resto's exclusive 'yachtsteraunt' foodie cruise next spring.
Jack in the Box partners on Hallowe'en horror flic…
JITB is promoting its Angry Monster Taco with a Hallowe'en-themed short video. But it's no ordinary screamer. Jack hired the writers behind You, Saw and American Horror Story: 1984 to create Feeding Time. It's kind of like Steven King's Christine crossed with The Duel. Watch it on Jack's YouTube channel. By the way, the original Monster Taco is also back, for a limited time.
… Brings back Stacked Croissant
JITB brings back its monumental stacked breakfast sandwich for a limited time. The Stacked Croissant stacks up like this: American (processed) Cheddar cheese, egg, ham and sausage.
Then repeats that sequence before topping off with another slice of American. And it's not just for breakfast anymore: The Stacked Croissant is on the All-Day Breakfast menu.
Papa John's bakes up Twix dessert
They're called Twix Papa Bites, and they're a simple treat: Cheese Cake filling and Twix chunks wrapped in PJ's signature pizza dough. They come in 8-piece orders with caramel dipping sauce. PJ's rewards members can order online now. General release is set for this coming Monday. Twix Bites join Oreo Cookie Papa Bites, Jalapeño Papa Bites, and Chicken Parmesan Papa Bites on the menu.
Gummies feature compostable packaging
'Rotten' brand gummy worms have made the Hallowe'en scene. They're creepy, yes. But on the up side, they come in completely biodegradable packaging. Rotten gummies come in 2 flavour profiles: Original and Sour.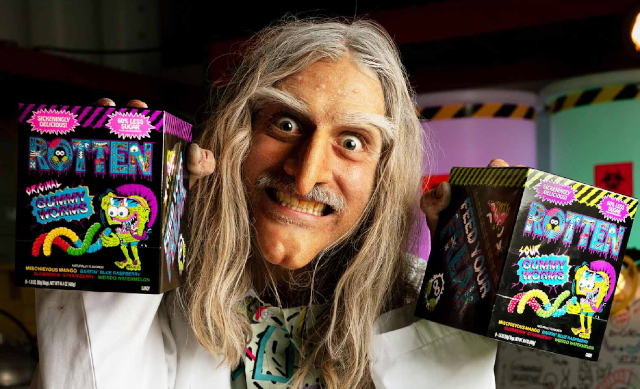 Within each of those categories there are 4 flavours: Mischievous Mango, Barfin' Blue Raspberry, Slobberin' Strawberry, and Weirdo Watermelon. And they contain 60 percent less sugar than traditional gummies.
Ben & Jerry's stresses non-dairy
B&J's is upping the profile of up its non-dairy ice cream now through next spring, getting the scoop on a whole slew of new flavours. The parade will be based on an improved version of the company's Oat Milk non-dairy ice cream base. The 'new and improved' base will appear first this coming spring, in Chocolate Chip Cookie Dough and Chocolate Fudge Brownie flavours. Additional flavours will be 'converted' to Oat Milk as time goes by.
Quaker does Chewy Granola
In contrast to the established crunchy 'standard', Quaker is now offering Chewy Granola. It's in crumbles, not bar form. Which means you can east it like cereal with milk…
… or – more to then point – pop it to your heart's content in front of whatever screen you prefer. This new treat comes, initially in classic Chocolate and Strawberry flavours.
The DEW pours new VooDew flavour
This year, the spooky-season VooDew mystery flavour has changed again. And it's not such a mystery. It's been confirmed that VooDew 2023 is Airheads Cherry flavour. It's the first time The DEW has partnered with a real candy company. VooDew has been around for a few years, now. Previous versions included Candy Corn, Fruit Candy Explosion, Fruit Candy Chews, and Sour Candy.
Boo Buckets back at McDonald's
If you and your kids are still into Trick-or-Treating, you'll be glad to hear that McDonald's is offering its handy Boo Buckets again. The plastic pails with the scary decorations can be ordered with any Happy Meal. This year they come min 4 versions: Monster, Skeleton, Mummy, and Vampire. Get them while supplies last.
And that's the skinny…
… On what's going to be making some of not only a little fatter but a little scarier over the next dew weeks. See you back here i9n 7 for the next edition of Fast Food Week!
~ Maggie J.