The sun is definitely setting over southwest Texas this week: Tex-Mex mains and treats abound. There's also a pretty fair presence of Sauces and Dressings. And the remaining majority of new and returning products provides a versatile, mouthwatering array…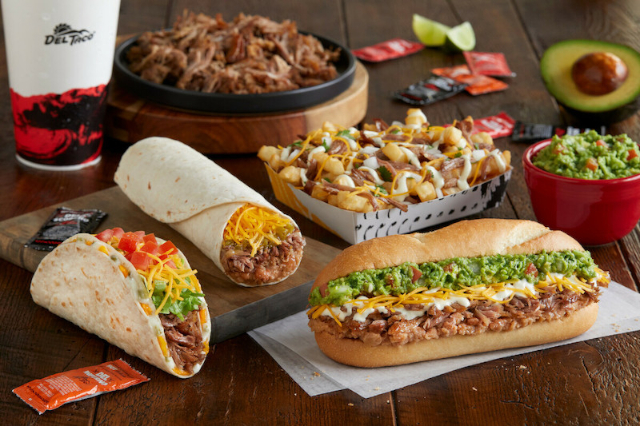 Shredded Pork Carnitas are back at Del Taco. If you've never tried these amazing
morsels of kettle-cooked pork, now's your chance – available 4 different ways!
Del Taco welcomes back Carnitas
You know what carnitas are: Those crunchy, tasty shreds or chunks of kettle-cooked pork butt. Now, Del Taco is bringing back its shredded pork version in a selection of limited-time menu items: Carnitas Stuffed Quesadilla Taco; Carnitas Combo Burrito; Carnitas & Guac Epic Torta; and Carnitas Fries. Del Taco is giving Del Yeah Rewards Members early access to the new Carnitas menu lineup starting now. Sign up for the Rewards program in the Del Taco mobile app.
Jack In the Box modifies Munchy Meal
JITB is modifying its Late Night Munchies Meal deal, expanding it to a 'Build Your Own Munchies Meal' deal. It's the idea thing for folks whose 'needs' might not totally coincide with what some would-be munchy provider might offer. The new Build Your Own Munchie Meal allows you to choose one of four designated regular menu, and includes a choice of two sides, and a small fountain drink for $10.
Doritos plays Tex-Mex Roulette
Here's an idea that I think will appeal to Chili heat lovers. And the kind of folks who eagerly await the latest new social media 'challenge'. It's Doritos' Flamin' Hot Limon Roulette.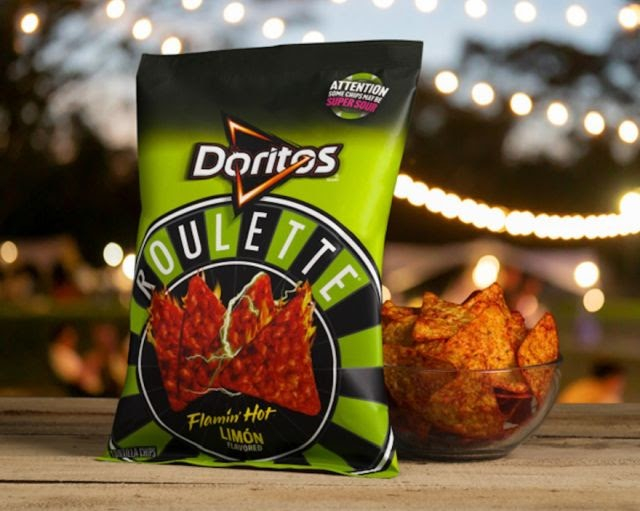 The new twist on the sour-spicy treat goes like this: Some of the chips in each bag are extra sour' though all the then chips are equally spicy. Limon Roulette joins Doritos Roulette Cool Ranch and Doritos Roulette Nacho Cheese on the oddball chips flavours shelf.
Sun Chips adds new spring flavour
Sun Chips, the 100 percent Whole Grain crinkle chips that come extra thick for safer dipping have loosed a new flavour on the marketplace for the warm months. Fittingly, it's new Monterrey Jack and Garden Tomato flavour, perfect for the season. Available at all the usual sources through the end of next month.
GM tries sweet-savoury nut-crunch bars
Here's something moderately new and original. General Mills, proprietors of Nut Crunch Bars, are floating three new savoury flavours: Everything Bagel; White Cheddar; and Smoky BBQ.
They're reportedly made using, "a proprietary binding process that removes the need for sugar binders to keep them intact." And therefore contain only 2 grams of sugar per bar. Note: These snack bars now come in a 5-count box, rather than the 6-count box they used to come in.
AMX Premieres house branded candy
AMX cinemas is taking the bold move of creating its own house-branded candy for  move goers. One reason is, the confectioners' grapevine has signalled a coming 33 percent increase in the retail price of sweet treats across the board coming later this year. It's the same old story – costs rising because of COVID, climate and economic disruptions caused by the War in Ukraine. By selling its own brand of candy in cinemas, AMX says it should be able to cushion the blow for munchers.
REMIX customizes sauces
McDonald's has its 'Special Sauce', Burger King has its 'King Sauce'. Virtually all the other major fast food players have one or more flagship 'signature' sauces. They're taste foundations on which the  overall flavour complexes of new menu items are built. But folks have always mixed 'standard' sauces to make their own fave 'custom blends', which for them makes that burger or those fries… Perfect.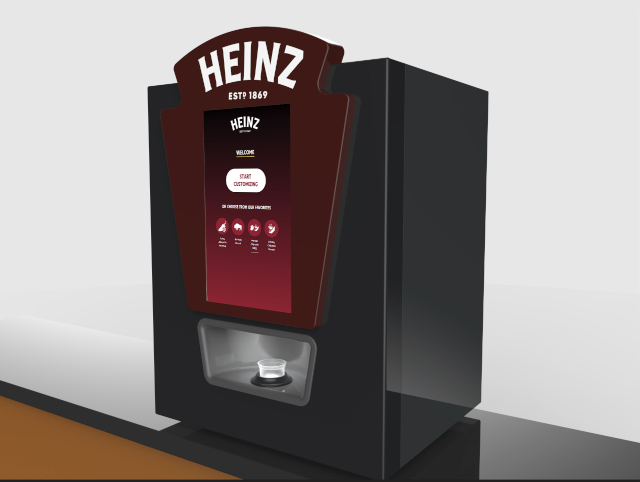 Now, Kraft Heinz is offering restos a counter-top machine will blends a variety of sauces and flavours so diners can create their own signature sauced. Watch for the arrival of a Heinz Remix machine at your local fast food source later this year…
Chick-Fil-A adds to supermarket lineup…
Chick-Fil-A is adding 4 new bottled Salad Dressings to its supermarket products roster: Avocado Lime Ranch; Garden Herb Ranch; Creamy Salsa; and Zesty Apple Cider Vinaigrette.  Look for them alongside Barbeque, Polynesian, Sweet & Spicy Sriracha, and Original Chick-fil-A Sauce in the cooler section…
… Closes original store
In a move that ha chocked some and brought tears to nthe eyes of others., CXhick-Fil-A has closed its original retail store. It's all part of the move toward supermarket marketing of its beloved brands and a move toward a new business model more focused on convenience, speed of order fulfilment and mobile-online customer contact.
And that's the skinny…
… On what will no doubt be making some of us a little fatter this coming summer. See you back here in 7 for the next edition of Fast Food Week!
~ Maggie J.