We're still reeling from reveals, announcements, launches, and débuts from confection purveyors. In fact, in one of the boldest moves I've ever seen in this category, Ferrero has taken the wraps off both its Valentine's and Easter lists…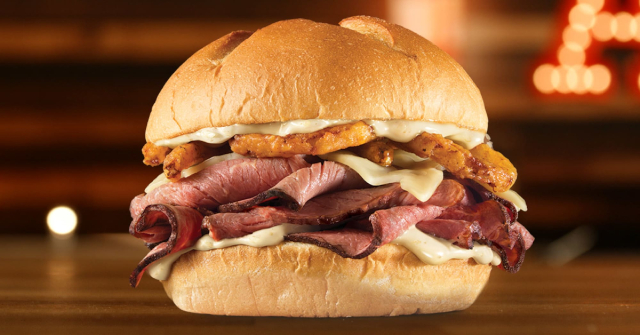 The delectable-looking Steakhouse Garlic Ribeye Sandwich from Arby's…
Arby's kicks up winter with new premium sammy
Arby's is adding a new high-end Steakhouse Garlic Ribeye Sandwich for a limited time this winter. Built on a toasted specialty bun, the fancy sammy features thin-sliced ribeye steak, Swiss cheese, crispy-fried onions, and creamy garlic aioli. A fairly simple recipe, but crammed with umami richness. At participating locations only.
Pop Tart bites back for V-Day
The baby Bites can be described as 1- or 2-bite pastries (depending on how big your mouth is), (or how hungry you are). They're dressed with pastel pink icing and red sprinkles. The filling is called 'sweet swirl cupcake'. And there's even a special space on the wrapper back to write your honey a personal message. Available in big bulk boxes at all the usual sources.
Mars offers Special M&Ms for Valentine's Day
Mars is offering fancy White Chocolate Strawberry Shake M&M's and Dark Chocolate Ganache Dove Promises for a limited time, for the 2023 Valentine's Day season.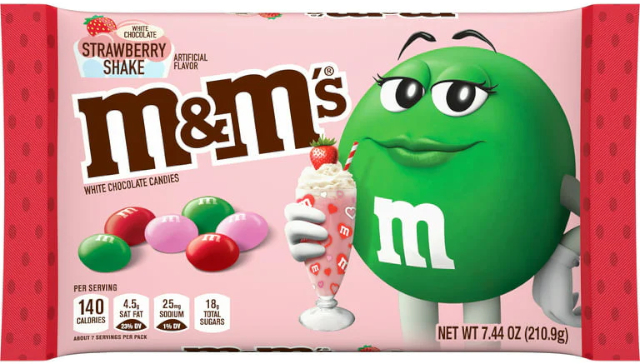 The M&Ms are filled with shake-flavored white chocolate and covered in red, green, and pink candy shells. The Promises feature, "a rich and decadent dark chocolate flavor with a silky smooth, perfectly soft center."
Ferrero unveils Spring Holiday selections…
… With dozens of new and returning specialties, spread across a whole slew of your fave brands. Ferrero Rocher, Nutella, Kinder Joy, Butterfinger, Mother's Cookies and more. Original and special-flavour Ferrero Rocher and a selection of mini candy bars dominate the Valentine's Day landscape. Look for them at the usual places now through Easter.
'Most OREO OREO' ever?
It's your ticket to the new OREOverse world, where you can explore, play games, and win prizes. The cookie is stuffed to 'The Most Stuff' level, with a blend of regular stuff and classic OREO crumbs. Someone has already coined the inevitable slogan: "These cookies are full of themselves. Literally."
America's grace and charm poser girl Martha Stewart is fronting the OREOverse launch. Sample the OREOverse experience on Oreo's social channels. Pre-order the limited-time special product at Oreo.com and look for it at the usual retail locations starting January 30, 2023.
Vintage Vanilla Frosty back at Wendy7's
It's replacing the Peppermint Frosty for a limited time. The famous Chocolate Frosty stays in the game. Look for a new limited-time flavour for summer. Serious fans sy it appears someone got the usual smooth rotation of seasonal limited-time flavours mixed up this year.
Rihanna goes Neapolitan with special Ice Cream Promo
Madison Brown (one of North America's most exclusive boutique Ice Cream brands) is confabbing with Rihanna (this year's Super Bowl half-time headliner) to produce a limited-run Neapolitan flavour. The product features It features vanilla and strawberry ice cream with a rich chocolate crunch ribbon.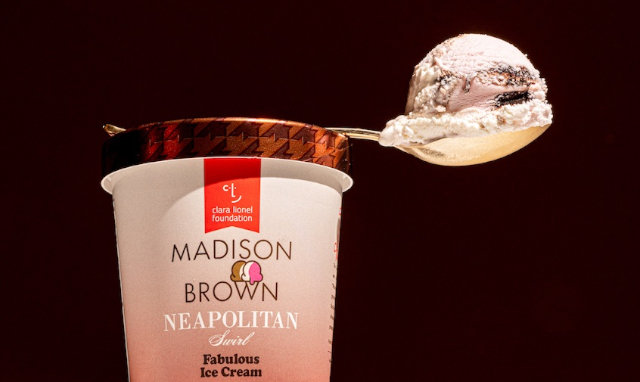 And you get the Bad Gal's signature on the back of each pint. All proceeds from sales of the special brand the special brand will be donated to the Clara Lionel Foundation (CLF). The CLF supports climate justice initiatives in the Caribbean and United States.
Gatorade adds 'energy'
Gatorade – the original 'sports drink'- is now adding an energy drink line. When first invented, the big 'G' was intended to replenish vital electrolytes in elite athletes. Now, its new Fast Twitch energy drink, developed in cooperation with sports performance experts and the NFL, has débuted with 200 mg of caffeine (about the same as two cups of regular coffee). It also features: 100 percent of your daily recommended dose of vitamins B6 and B12; no carbonation; the same great flavors as regular Gatorade; NSF 'Safe For Sport' certification; and the industry's grippable, resealable bottle.
And that's the skinny…
… On what's going to be making somebody's honey a little chubbier this Valentine';s Day. See you back here in 7 for the next edition of Fast Food Week!
~ Maggie J.