A little bit of everything in this edition  of Fast Food Week! New treats, bevs, and flavours. PLUS: Lay's does summer Flavour Swap, Krispy Kreme rides gas prices, McDonald's celebrates return to school with syllabus-themed deals, and Doritos does Canadian Flavours…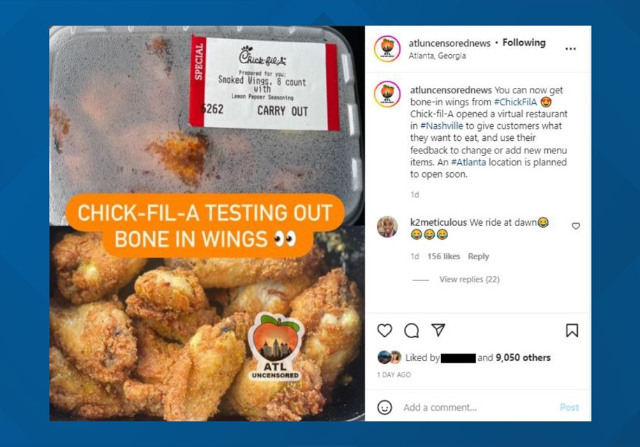 Viral post about Chick-Fil-A Wings: A taste of things to come?
McDonald's celebrates return to school
Many school boards start their new academinc year this coming Monday, and McD's is offering a Back-To-School rolling menu next week only: $1.01 McChicken on Monday, $2.01 Chicken (where available) or Sausage McGriddle and Large Coffee on Tuesday, $3.01 10 Chicken McNuggets on Wednesday, and $4.01 Big Mac and Medium Fries on Thursday. And you can get double rewards points on any regular priced menu item ordered after that, if you redeem all 4 week-day deals. You may have guessed, the deal is available only through the App. At participating U.S. locations.
Chick-Fil-A introducing Wings?
Maybe the last of the top-tier Chicken houses to offer wings, CFA is apparently testing them in Nashville now. Social media posters say they've seen Lemon Pepper and Smoke flavoured regular Bone-In wings. And we are reminded that a 2021 press release announced Boneless Wings would be offered by CFA's new Little Blue Menu delivery-only operation, testing in Nashville soon.
Smashburger lights up a BOGO deal
Smashburger is offering a very limited buy-one-get-one-free deal, single or double, on any burger or chicken sandwich from now until August 14.
At participating locations chain-wide. Use the promo code SMASHBOGO when ordering. Access a list of participating locations on the Smashburger website.
Wendy's adds Homestyle French Toast
Wendy's is adding Homestyle French Toast sticks to the menu starting next week, August 15. It's just in time for back-to-school back-to-work when many folks will be reverting to breakfast-on-the-go. The toast fingers are made the traditional way, by dipping bread into egg-custard mixture and grill frying. Wendy's is also launching a new maple-flavoured syrup 'dip'. In 4- and 6-piece orders, via walk-in, drive thru, or the app.
Krispy Kreme rides gas prices
KK U.S. is offering a special deal on what it calls the Beat The Pump Original Glazed Dozen. You can get your classic dozen for the average price of a gallon of gas. The price on any given day is published at the Triple-A Gas Prices website. They call it the Beat The Pump Deal, and it's good thru Labour Day.
Lay's does summer Flavour Swap
Flavour Swap mashups are back at Lay's, with 4 potato chip flavours imported from other products.
There's Kettle Cooked Fritos Chili Cheese, Cheetos, Doritos Cool Ranch, and Wavy Funyuns Onion.
Doritos does Ketchup and Mustard
It's a special summer release of two new flavours, one of which, Ketchup, has been a huge hit in Canada for decades. The other is described as bringing 'the iconic tang of mustard' with 'the bold and spicy flavors Doritos fans know and love'. Get them for a limited time on Snacks.com.
Keebler x Mario = Stripes
The Keebler elves are partnering with Mario Kart to create new Mario Kart Fudge Stripes Rocky Road Cookies. Keebler original Fudge Stripe cookies are centre-punched with Super Star and Lightning power-up shapes from Mario Kart, and topped with a marshmallow-fudge drizzle. They're available for an early taste at Walmart stores and Walmart.com starting this coming week. General distribution commences mid-September.
Baskin Robbins débuts Strawberry Treat…
Strawberry Treat is the BR flavour of the month. It's Pastry-flavoured Ice Cream swirled with Strawberry Jam, rainbow icing and chunks of real toaster pasty.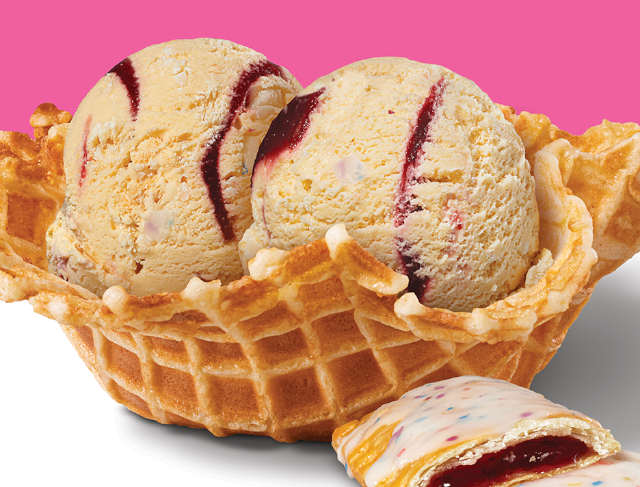 Looks really good in the official portrait, especially in a waffle cone bowl!
… Adds Cold Brew coffee
BR OREO 'n Cold Brew Blast starts with Cold Brew, blending in OREO 'n Cold Brew Ice Cream and real OREO Cookie pieces. It's BR's first foray into cold brew country. Let'em know what you think.
And that's the skinny…
… On what's going to be making some of us a little fatter this coming back-to-school season. See you back here in 7 for the next edition of Fast Food Week!
~ Maggie J.