Summer is a time to go places and do things – and eat and drink on the way. Maybe that's why so many Fast Food brands have specials right now encouraging you to use their online and mobile ordering options. And Strawberry season is in full swing with a bunch of limited-time offerings…
Pick of the Patch: Krispy Kreme celebrates the strawberry…
Domino's taking drastic action to promo online ordering
The following is not a misprint: Domino's Pizza is offering 50 percent off all menu-priced pizzas ordered online through June 12, 2022. The cut off is tomorrow, so get to your phone or ordering website of choice now. You can use: Dominos.com; Domino's ordering apps; or Domino's AnyWare ordering through Google Home, Alexa, Slack and Facebook Messenger. The deal is valid on any size pizza on any of the crust choices.
Taco Bell offers Cheddar Chalupa deal online only
The Bell has put together a special '$5 Box' deal for online orderers only: You get a Toasted Cheddar Chalupa, a crunchy taco, Cinnamon Twists (or Chips and Nacho Cheese Sauce), and a medium fountain drink for a special low price.
SONIC reprises Grilled Cheese Double Burger
The Grilled Cheese Double is built like this: two Jr. beef patties, three slices of melted American (Processed) cheese, mustard, ketchup, and diced onions, stacked on Texas Toast.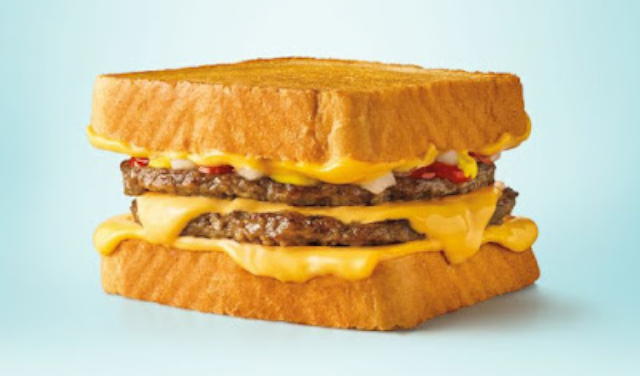 Fans can get the limited-time special now through the SONIC app, or in store starting June 13. It's one of those nifty SONIC menu items that nobody else offers, limited-time or not.
Jack In The Box brings back Bacon Cheesy Jacks
Last year, JITB featured a Triple Bacon Cheesy Jack for summer. This year, there's a Triple and a new Double on the limited-time menu (see photo, top of page). The burgers feature bacon bits with Creamy Bacon Mayo, Cheddar and Swiss Processed Cheese, on toasted buns. Something a little different for cheese and bacon lovers!
Krispy Kreme offers Pick of the Patch
New berry-themed doughnuts – Mixed Berry Cobbler, Blueberry Cheesecake, and Strawberry Cheesecake – are available individually or in a Berry Lover's Dozen. You can also sample a special Mixed Berry Glaze sinker on weekends only through June 26.
Wendy's celebrates the Strawberry
The little red-haired girl is smiling for a reason. Wendy's is celebrating strawberry season by bringing back its popular Summer Strawberry Chicken Salad and adding a Strawberry Frosty both for a limited time.
The salad sounds even better than the last time I had one: "…sun-ripened, freshly sliced strawberries, crisp Applewood smoked bacon and juicy grilled chicken atop a bed of crispy lettuce and spring mix, and topped off with an Italian cheese blend, candied almonds and a sweet Champagne vinaigrette."
KIND energy bars expands PRIDE support
KIND's PRIDE bar is available year-round starting now, extending support for New York City's Ali Forney Center, the America's largest non-profit organization aiding homeless LGBTQ+ youth. It's estimated that 40 percent of America's 4.2 million homeless youth identify as LGBTQ+. And remember: June is PRIDE month in the U.S.
Pringle's adds spice to its Ranch
The new Wavy Chipotle Ranch chip is a limited-time release. It's exclusively at Walgreen's Drug Stores starting this coming week. It's just the latest limited-time new flavour from the techno-chip stamper-outer. Stay tuned.
Intl. Alert: Taiwanese change names for free sushi
Back in March, a multinational Japanese specialty store offered all-you-can-eat sushi to anyone in its Taiwan market region who would change their name legally to 'salmon'. 'Salmon chaos' ensured when 331 Taiwanese citizens paid to have the Chinese characters for 'salmon' – 'gui yu' – legally added to their names.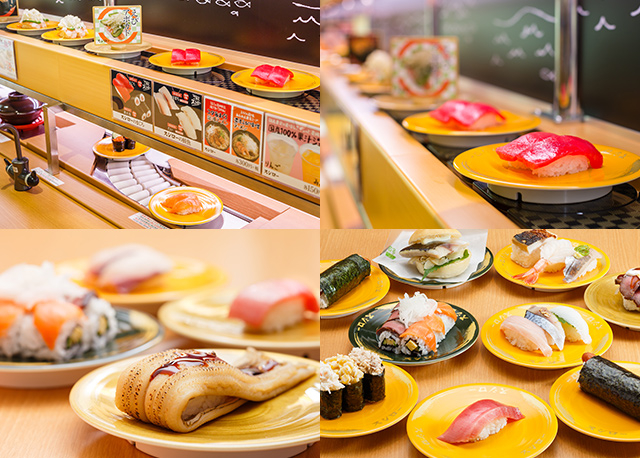 Then, they discovered that they had to wait a full year before they could change their names back. But it all added up to a lot of free publicity for Akindo Sushiro.
And that's the skinny..
… On the treats and meals that will be making some of us a little fatter over the coming weeks and months. See you back here in 7 for the next edition of Fast Food Week!
Maggie J.