Here we are, again! Saturday and time to look back on the week's Fast Food announcements, launches and gossip… Lots of new summer treats on offer, including a S'Mores Donut, and some surprising technological advanced from old reliable Fast Food players McDonalds and KFC…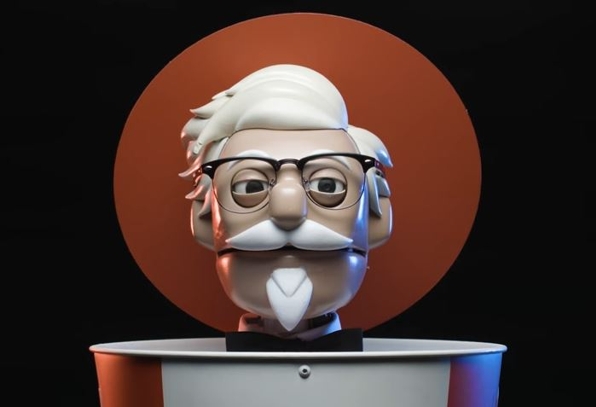 The new 'Colonel-in-a-Box' pop-up robot, Specially commissioned for Fried Chicken Day…
KFC continues techy promos with H.A.R.L.A.N.D
That's Human Assisted Robotic Linguistic Animatronic Networked Device, to ypou, puny customer. The moniker is that of a new drive-thru Robot designed to make your ordering experience something… special? It's an animatronic Colonel which transmutes the drive thru window operator's voice to that of the real Colonel while you're interacting with it. The spooky robot will not be appearing at KFC locations everywhere, though. it was commissioned solely to celebrate National Fried Chicken Day, in this commercial. KFC started its tech-oriented promos with a 'space Colonel' spot featuring Rob Lowe and continued by sending a sandwich to the stratosphere for a few days.
McDonalds uses musical mind control!
McDonalds outlets in Liverpool and Gloucester, UK. are using science of mind control to tame rowdy customers. The customers in question, primarily those who've had too much to drink before coming to McD's, can cause a lot of trouble. But the proprietors of the outlets in question say playing Bach and Mozart on their background music systems tames the beasts. Other McDonalds outlets have also experimented with music. Gloucesterlive.com says the type of music played did effect the mood of customers.
McDonalds Tests Loaded Bacon Cheese Fries
McDs has launched premium  Fries doused in Cheddar Cheese Sauce and topped with Applewood-Smoked Bacon. Test markets for the new treat have been identified as the Greater Pittsburgh area, Central West Virginia, Southeast Ohio, and Eastern Kentucky. The Loaded Bacon Cheese Fries sell for (US)$3.99 an order, twice what Wendy's charges for an order of Baconator Fries.
Wendy's launches new 'Queso' menu
Wendy's has launched a new 'Queso'-inspired line of sandwiches across the land. The Queso in question is not the fresh Ricotta-like Mexican cheese I've also associated with the word. It's a pourable yellow Cheese Sauce that looks more like melted American/Process Cheese-like Substance. But it's apparently really tasty ans they smother their new menu items in it. Those items being: Bacon Queso Chicken Sandwich, a Bacon Queso Burger, and Bacon Queso Fries.
Dunkin's launches new S'Mores Donut…
Dunkin' Donuts  has launched two new summer treats. The first is the S'mores Donut, like a Chocolate Cream-filled donut but filled with a toasted marshmallow-flavored Cream and topped with Chocolate Icing, Graham Crackers, Milk Chocolate Chunks, and Marshmallows. The Chocolate Drizzled Strawberry Croissant Donut is a Croissant Donut with Strawberry filling and a Chocolate Icing Drizzle. At participating outlets for the next month or so…
BK running a special on Classic Grilled Dogs
Burger King is celebrating July by cutting the price on Classic GrilledDogs to just (US)$0.79. It normally sells for (US)$1.99. The Classic includes a grilled All-beef Hot Dog in a regular bun topped with Ketchup, Mustard, Relish, and Chopped onions. Sounds like a great bite! Especially at that limited-time low-low price. (At participating locations.)
And that's the skinny on the Fat – er, Fast – Food scene for this week. Enjoy the special summer treats on offer from virtually all the players!
~ Maggie J.