We have a mixed bag of news from the Fast Food Sector this week… New menu items galore are complemented by yet another food-and-fashion mashup. Olive Garden and McDonald's bring back customer favourites. And 7-Eleven partners with Pillsbury on Stuffed Breakfast Waffles…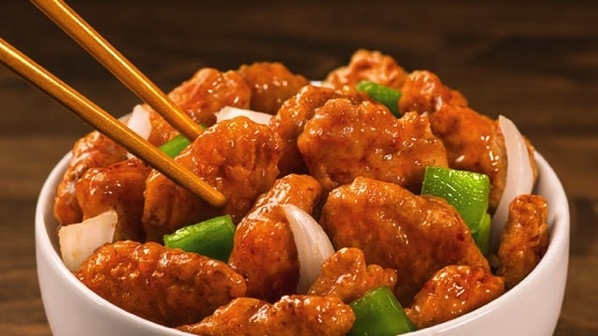 Panda Express' new Peking Pork. I'd order that…
Panda Express brings on the Pork!
Panda Express is offering a Wok-Fried Pork entrée through December of this year. It's described as 'crispy pork chop bites stir-fried with a sweet and sour glaze in a work along with green bell peppers and onions.' Panda's Peking Pork also comes in a new cardboard box that goes retro to the take-out Chinese containers of the 60s and 70s.
Popeye's has a Popcorn Chicken deal this month…
Popeye's is offering a Quarter-Pound Chicken box deal this month. And it's an even better in that the Chicken is boneless 'Popcorn' nuggets. You also get a Buttermilk Biscuit and the side of your choice. We'll take the Fries.
McDonald's brings back Chicken Tenders
Fans of McD's Chicken Selects will be happy that the burger giant is introducing new Buttermilk Chicken Tenders. You get four pieces of boneless Chicken per order plus a tub of new Signature Sauce, which is described as an 'ideal balance of sweet and tangy flavors'.
Olive Garden brings back Neverending Pasta
Not exactly fast food, but a chain to be reckoned with, nonetheless: Olive Garden's Neverending Pasta Bowl is back for the fall. Choose from seven Pastas, six Sauces and five Italian Meats…
7-Eleven and Pillsbury do Stuffed Waffles
We recently told you that 7-Eleven is bring in new 'locally-made' heat-and-eat meals, in an new attempt to get back on the fresh food bandwagon. Previous tries with factory-made Sandwiches and other mediocre stuff failed miserably. Now, they're adding a new Pillsbury breakfast treat, stuffed Waffles. They're waffle pockets stuffed with Egg, a Sausage Patty and Cheddar Cheese. They actually look really good. In the Grab-N-Go section.
Taco Bell has partnered with trendy Forever 21
They're launching a new line of casual clothing. The tops and tees will feature signature brand graphics set against a mix of "playfully vibrant prints." It includes tops, bodysuits, and cropped hoodies for the women and a sweatshirt, hoodie, and an anorak jacket for the men. There will also be graphic tees, a pullover, and a hoodie for the girls.
And that's it!
Look for Hallowe'en and Thanksgiving specials to emerge this coming week!
~ Maggie J.