That week really flew past! And I'm not talking about the effects of Hurricane Harvey or Irma. It's just been really busy. We've got a flurry of fall menu announcements, a potential shakeup in the Premium Coffee sector and a couple of new wacky/frightening ideas from the current champ of 'weird advertising'…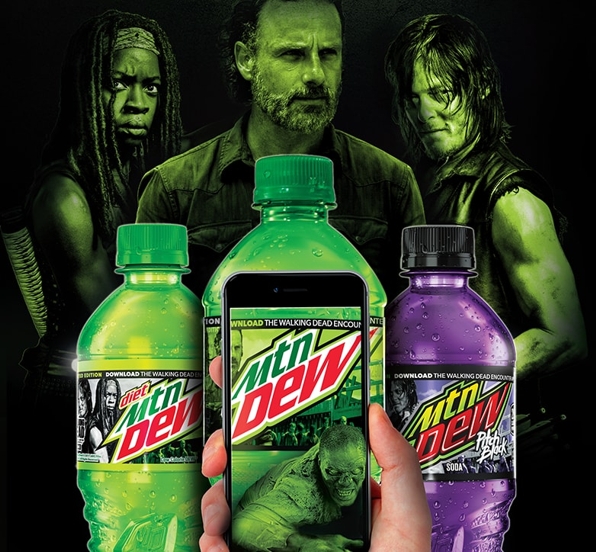 Get a free Walking Dead 'augmented reality' experience with special bottles of Mountain Dew!
KFC using face-scanning technology in payment system…
If that sounds draconian and even downright creepy, you're not alone. I agree with you. And I suspect that many other folks would, too. But never fear. It's only in use in China. It's supposed top be more convenient than debit or credit cards, but you still have to enter your phone number at the ordering kiosk before the transaction goes through. How do they know your face is your face? Apparently, the resto has access to all ID photo data banks in it's market area. How'd they do that? No privacy protection laws in China, I guess…
…And going from sublime to ridiculous in ads
KFC has given us a really nutty, unpredictable and, at times, scary progression of commercials and promo videos over the past year. The latest being a Dancing Chicken spot that some animal rights people thought was in bad taste. Now, they're apparently bringing back their 'Imposter' Colonel' series with a spot featuring WWE wrestling stars 'auditioning' for the part of the next faux Colonel. What has that got to do with selling Fried Chicken? Apparently selling Fried Chicken has nothing to do with anything logical or rational.
McDonald's adds Espresso to further challenge Premium Coffee
McD's is adding Espresso to its McCafé menu and all Coffee Shop Sector watchers will be interested to see what happens. You'll remember that McD's got the whole Coffee Upgrade movement started with its Coffee 'remake' a few years ago. Other Fast Food operators, notably Tim Horton's (which built its business on coffee), quickly followed suit so as not to be left behind. Then, McD's started in with its McCafés, directly challenging the likes of Starbucks and Second Cup. Now, Espresso will be available at all McCafé outlets. Could this be the moment that the Premium and proletarian Coffee words collide, meld and become one?
NYC schools to provide Free Lunches for all kids
Not really a Fast Food issue, but worth nothing, as it's about a meal that kids get away from  home… New York City has become the largest U.S. city to offer free school lunches to all students. Boston, Chicago, Detroit, and Dallas are among other major centres that offer free school lunch to all. The move came after it was realized that more than 75 per cent of kids in NYC schools already qualify for free lunches based on economic needs tests. The new umbrella program will benefit some 200,000 families saving them each about (US)$300 per year.
Mountain Dew partners with AMC to promote new season of Walking Dead
Mountain Dew is distributing special bottles for about the next month to promote the new season of the immensely popular zombie-fighting show, Walking Dead. Buy the bottle, scan the code and receive a special augmented reality experience via your iOS or Android prone. And then share it via social media. It'll help pass the time until the new season starts next month.
Red Lobster brings back Endless Shrimp
In spite of worries that the Shrimp harvest was down this year and that costs would rise accordingly, Red Lobster says it's bringing back its popular Endless Shrimp promotion this fall. Need we say more?
Dairy Queen brings back one Blizzard, launches another
DQ is bringing back its killer Pumpkin Pie Blizzard this fall and launching a new one, called the Best Chocolate Cake Blizzard. Blizzard lovers take note…
McDonald's brings back McPick2 deal
McD's McPick2 deal is back this fall, for a limited time. Get any two items on the special McPick2 menu for just $5. You know the drill.
Baskin Robbins débuts Belgian Waffle Ice Cream
BR has declared Belgian Waffle its September Ice Cream flavour of the month. Get it while it's there. Those who've tried it say it's like no other BR flavour you've ever tasted…
And… No, they didn't forget the Pumpkin Pie Latté!
Starbucks is bringing back its wildly popular Pumpkin Pie Latté – widely regarded as the beverage that started the whole Pumpkin Spice favour craze – along with the oher already-announced items on its fall menu. I think they purposely delayed the announcement a week to stir up talk among Latté lovers!
There you have it…
A bumper crop of announcements, launches and developments in the Fast Food Sector. Back to School, Back to Work, Back to the Fast Food marketing Wars…
~ Maggie J.