As of this weekend, summer is unofficially over. It's back to school and work for everybody next week. And that means back to the desire for easy weeknight meals. I've dug up a short list of old, reliable, everybody-pleasing quick, easy suppers…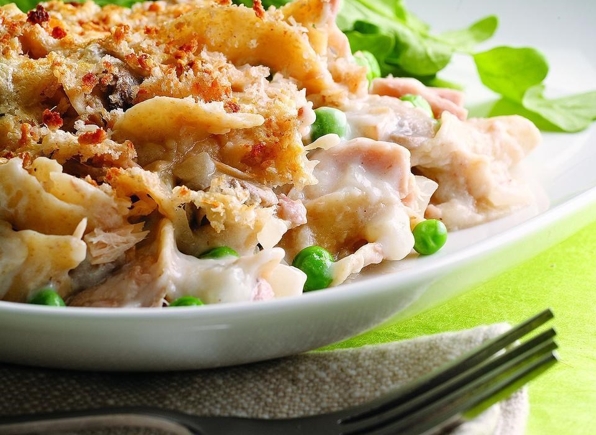 Tuna and Noodles: The classic of classics. Of course, Mac and Cheese can also claim
that title. Let them fight it out between themselves on your supper table!
Alright. The first point here, I guess, is that you can always feed your family cheaper and more nutritiously with home cooking than you can by buying in prepared, or highly processed foods. I've already demonstrated how to do that with some ultra-inexpensive recipes by exploring the potential of pasta, rice and beans, chili, and cabbage.
Today, I want to help you kick-start your recipe memory by showcasing some all-time family-fave meals that are both easy and quick to throw together, and less expensive than you might think.
Tuna and Noodles
A casserole is usually a cheap, easy way to fill your families' bellies at the end of the day. Tuna and noodles is one of oldest and most reliable classics. The most expensive component of any T&N recipe is the canned Tuna. It's currently selling for a modest $2.50 to $3.50 per tin.
Mac and Cheese
Another proven family pleaser. Try my mom's recipe! The most expensive ingredient in this one is the Cheese. Cheddar is currently selling for around $4.50 lb. / $1.50 per 100 g or less. Be sure to shop the sales. Cheddar cheese is often on special, as a loss leader in the dairy case. You can always enhance your M&C with fully-cooked leftover meat and/or veg.
Egg Bake
Remember the famous slogan: Eggs aren't just for breakfast anymore! The Bake is just like a quiche but without a crust. Be sure to grease the casserole dish well so the Bake will serve without sticking or breaking up. Simply whisk up some eggs and toss in whatever you have in the fridge: leftover fully cooked meat (cubed), sweet or hot peppers (diced), coarsely chopped onion. You name it. Bake at 350 F for 30 – 45 min. or so (until cooked though, using the toothpick test). Top with shredded cheese if you wish.
'Breakfast' Burritos
Just make scrambled eggs the way you usually do, tossing in whatever you have lying around. Like the foregoing Egg Bake. Then wrap in a flour tortilla. You may want to add some cheese inside, or on top, then run under the broiler to melt the cheese and re-heat before serving.
Grilled Cheese
Enhance your fave grilled cheese recipe for supper. Some of the most famous and elegant hot sandwiches in history have been little more than fancy grilled cheeses! If you have a jar of supermarket marinara sauce in the cupboard (and you should always!) or half-used in the fridge, serve it warm on the side for dipping. Plain old ketchup gets tired in this role really quickly.
Stuffed Baked Potatoes
Bake up your spuds right. There is a right way and a wrong way. Use the oven, not the microwave! Stuff with whatever you have on hand. There's no rule that says you can't use up leftovers and still present a really classy baked potato!
Pizza
That's right. Pizza! But simplify by using a store-bought ready-to-top crust or Naan bread flats. If you don't have some marinara in the house, you might have a bottle of Alfredo. That's just as good in the role of a base sauce, and will cry 'creativity' to at least some of your diners! Don't default to ketchup. That just ain't real Pizza… Mozz cheese, shredded, is important here, but you can use whatever toppings your family prefers. Again, you'd be surprised how many leftovers you can use up on a pizza!
Sloppy Joes
Just brown some ground beef (on sale this week for as little as $7.00 lb. / $1.40 100 g.). Then add Sloppy Joes mix from the store, or make your own with ketchup, brown sugar and a little mustard. Add some chili powder if you and yours like it hot. Serve on regular hamburger buns, or whatever bread you like.
Easy Chicken 'Parmesan'
Just toss some frozen breaded chicken strips in a casserole dish. Top with marinara and shredded Mozz. Bake as directed on the chicken package. Be sure to prepare a small salad, or a simmered/steamed veg, for the side.
Peirogies
While we're in the freezer case… Frozen Pierogies make a great cheap supper. And they're a nice change from what your family is probably used to. Fry them as directed on the package with a little butter or oil, and some finely-diced onion. Again, you'll want to add a veg of some sort on the side.
Asian Dumplings
Sort of like Chinese/Japanese Pierogies. Steam or fry as you prefer. They come in dozens of styles and fillings at your local Asian food store. And they can be downright cheap on sale. You really should splurge on some classic 'Plum' sauce or Thai sweet Red Chili sauce for dipping. A little goes a long way, so the high-looking price on the bottle (of the latter) breaks down to a comfortable little addition per serving.
Hamburgers
Buy frozen burger patties when they're on sale during grilling season. Use them year round for fast, inexpensive suppers. You might want to get some frozen fries as well. Bake them in the oven as directed on the package. They go on sale frequently. You probably have all the usual toppings in your pantry or fridge already.
Hot Dogs
Not something you want to have too often, but okay for a change now and then. And there are some genuinely 'healthier' dogs out there. Though they tend to be the most expensive. Anyway… You know how you prefer to boil or grill your dogs. Top with whatever you have on hand, or want to (or can afford to) buy-in for the event.
Certain 'standard' ingredients…
There are certain ingredients that keep coming up in the aforementioned cheap, fast and easy weeknight supper recipes. Make sure you always have Onions, Green Pepper, Marinara sauce, and Cheddar and Mozzarella cheeses in the house.
There you go…
Use your own imagination to take off from there sourcing and adapting family-fave suppers for the school and work season. You'll be surprised how little you have to spend to put a nutritious, comfort food meal on the table…
~ Maggie J.