Many North Americans look upon Rice and Beans as 'poor folks food'. But the combination is rich in vegetable protein and provides a bank canvas for flavouring. Let's look at some amazing Rice and Beans recipes from around the world!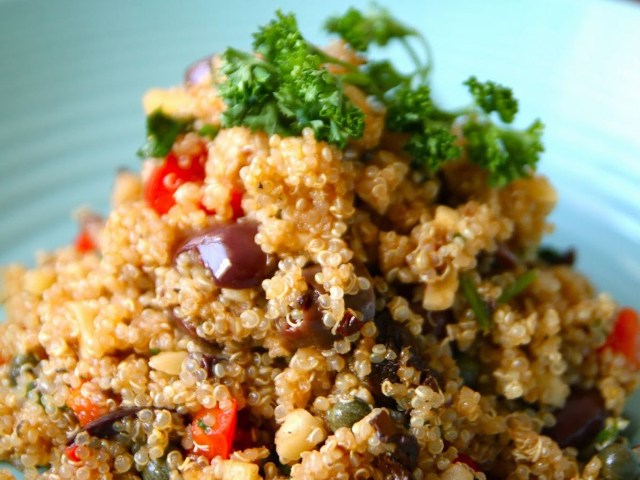 Warm Quinoa Salad: Something you hadn't even thought of before!
What's the attraction?
Rice and Beans is a cheap, ultra-nutritious combination enjoyed the world over where meat is often rare or not on the menu at all. It's a cheap way to put a complete protein into vegetarian dishes and an economical staple for folks on a tight budget.
Rice is rice…
But beans can be any kind of legumes from the world's extensive catalogue. Lentils, Quinoa, Fresh Green Peas, Dried Green (soup) Peas, Chickpeas, and even Peanuts (also known as Ground Nuts) are all legumes. The world-renowned Mayo Clinic offers a complete online guide to Beans, Peas and Legumes. There's even some multi-media content!
And come to think of it…
There are many different types of Rice, many favoured for specific preparations. So Rice, as a subject of investigation, offers just as much variety as the legumes. In fact, good old Wikipedia lists hundreds of known rice varieties from all over the world.
But what ewe see in the supermarket – and the least expensive of all – are usually broken down into the following categories:
Long Grain White: The most common type of rice on our plates. The bran and germ are removed by milling.
Brown Rice: Regular rice with the bran removed, but retaining the germ. A healthier choice, but the stronger flavour does not appeal to all.
Basmati Rice: One of the most common rices in India. It's the standard accompaniment for most Indian dishes, starring in Biryanis and Indian Pilafs.
Jasmine Rice: It's originally from Thailand, and is characterized by its pleasant nutty/floral scent. It's commonly used in rice dishes across Southeast Asia.
Wild Rice: A Canadian original, but varieties are also found in Texas and China. It's not a true rice but a separate species, favoured for its high nutrition value and unique taste and texture. Alas, this 'rice' is among the higher priced varieties, and is usually blended with more common rices.
Arborio Rice: Italian in origin, short grained, and preferred for creamy applications like risottos and rice pudding. There's no substitute for Arborio in these dishes.
Some inspiring recipes
India offers hundreds of variations on Beans and Rice. Recipes for various curries and other concoctions using beans and lentils are plentiful. All are served over rice.
One particularly elegant, flavourful Indian dish is Rajma (Red Beans and Rice). It's basically a stew of red beans, onions, garlic, and tomatoes, served over a mound of plain Basmati Bice. The classic recipe calls for a lot of ingredients. But you can get along quite authentically with fewer herbs and spices, according to your taste. The principle spice ingredients are turmeric, cinnamon and Garam Masala blend. The traditional Ramja formula calls for both fresh hot peppers and red pepper flakes. You decide how spicy you want yours! And definitely consioder the veggie slaw…
Lentil Stew (Dahl) is another Indian staple. There are as many variations as there are cooks who make it. The principle ingredients are Lentils, Rice and Potatoes. They're all stewed together with spices and the ubiquitous onion on a dutch oven. Pretty simple. The main spices called for include coriander, cumin, turmeric and sweet paprika. Note than this one presdents all the principle ingredients together; no need to prepare additional rice for bedding.
Mexican culture regards simple Beans and Rice very highly. One of my favourite Tex-Mex Rice and Bean dishes is a simple one adapted by Sister Erin from a typical Mexican home kitchen convenience version. One exception is that she uses canned black, pinto or kidney beans. A great convenience compared to starting with dry beans, soaking and cooking them for hours. They key is whizzing about a third of the of the cooked/canned beans in a blender or food processor and adding them back to the whole beans in a frying pan.
Toss in finely minced or pressed garlic, finely diced Jalapeños, cumin, coriander and salt to taste. Add a little beer, stock or other flavour-compatible liquid. Stir over low heat until all the ingredients are fork tender, and the liquids form a thick sauce that just covers the whole beans. Add diced tomatoes instead of liquid, if desired. Add diced green pepper and sweet corn kernels to inject additional colour and flavours.
Cuban Black Beans and Rice: The recipe we're referencing relies on Tomato-based salsa for its base flavouring, bolstered by paprika and cumin. Salsa being relatively expensive, you may want to play with the herbs and spices to create a less costly combination. As is often the case with Beans and Rice, onions are a main supporting actor. Of course, as recipe author Nora says, the basic recipe is tremendously versatile. And multitudinous variations exist. Note: You may dispense with long-cooking for the beans by using canned ones. Lime is a luxury, and can be left out without major consequences. No-name chicken broth is relatively inexpensive and really does add a flavour dimension. Use chili peppers as generously or sparely as you wish.
New Orleans Dirty Rice: A classic. And they don't come much simpler! The principle ingredients are red kidney beans, brown or white rice, sweet green peppers, garlic (of course!), and classic Cajun Seasoning (jarred). There are many variations to this recipe and I encourage you to create your own!
Warm Quinoa Salad: Another Mexican/Central American dish featuring Quinoa – a stand-alone complete vegetable protein! Dead simple to shop for, and just as easy to make. Quinoa is also packed with nutrients.
Just some suggested directions…
… You can go with rice and beans. Get Googling! You'll find enough authentic styles and recipes to keep you busy for many, many months.
~ Maggie J.