We love to follow Food-oriented lawsuits, almost always involving dissatisfied customers and major Fast Food chains. This time, it's Dunkin' Donuts, losing a suit to a Massachusetts man who ordered Butter on his Bagel but was served Margarine or a substitute instead. That'll show em…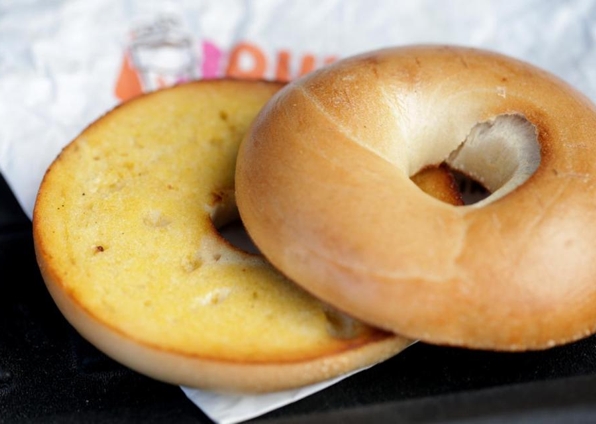 A Plain Dunkin Donuts Bagel. But is it topped with Butter or Marg?
According to a recent Boston Globe article, Worcester, Mass., resident Jan Polanik launched a class action suit against more than 20 Dunkin' Donuts franchises in Eastern and Central Massachusetts, claiming they served him Margarine after he ordered Butter with his Bagel. Yes. Something as simple and, you would think, innocuous as that. And the more surprising thing is, he won compensation for the alleged 'deception'.
Polniak's lawyer, Tomas Shapiro, argued, it's not such a small thing, after all: "The main point of the lawsuit is to stop the practice of representing one thing and selling a different thing. It's a minor thing, but at the same time, if somebody goes in and makes a point to order butter for the bagel… they don't want margarine or some other kind of chemical substitute."
Dunkin's countered that, for food safety reasons, it stores its individual Butter packets in the fridge but Margarine or 'vegetable substitute' us stored at room temperature to facilitate spreading. Normally, Marg is used when the server applies the topping and the Butter is served in its unopened packet, on the side when a customer specifically asks for it, a Dunkin's spokesperson explained.
But they settled out of court
Under the terms of settlement, filed with the court earlier this week, Polniak will get $500 in compensation and 1,400 other affected Dunkin's customers will receive free baked goods for their 'pain and suffering'. The lawyer, however, will receive something like (US)$90,000 in fees for handling the case.
Legal experts say such scenarios, where the lawyer(s) get far more out of a settlement than the plaintiffs, are not unusual. Hmmm. I should have gone to law school!
Meanwhile, it appears the hubbub is over. Until the next dissatisfied customer comes up with some new minor issue to sue a Fast Food Giant over.
~ M.