You may have missed it. I almost did. But, since we've challenged the famous Dr. Oz in this space before, for his wild and crazy dietary ideas, I thought it proper that we follow up this latest turn in his high-profile story: Fellow Doctors at Columbia Medical School want him booted from the faculty…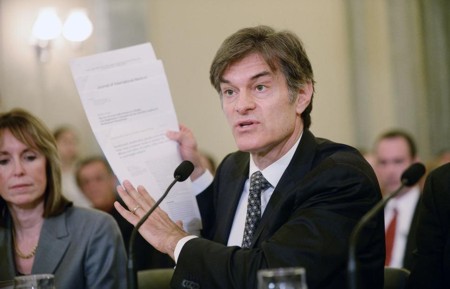 The embattled Dr. Oz, before a Senate Sub-Committee. Apparently, he still has
backing from his primary employer, Columbia Medical School – though many
of his colleagues say he should be drummed out.
Dr. Oz has been a controversial figure in the world of Pop Health for many years, now. But only recently has he become the target of official reprimands and, possibly, professional discommodation.
We told you last summer about his summons before a U.S. Senate Sub-Committee into deceptive advertising of diet products – some of which he, himself, endorsed. The Committee scolded him for his part in the problem and challenged him to clean up his act.
Now, Oz's colleagues at Columbia Medical School – where he is still a member of the faculty and regarded as a talented cardiothoracic surgeon – are petitioning the School to kick him out.
They accuse him of, "an egregious lack of integrity [for] promoting quack treatments and cures in the interest of personal financial gain." They also allege he has, "misled and endangered," the public.
In response, Columbia yesterday issued a statement apparently backing Oz: "[The School] is committed to the principle of academic freedom and to upholding faculty members' freedom of expression for statements they make in public discussion."
No comment from Oz, as yet…
~ Maggie J.