I was skeptical about this tip from a gadget-loving friend before I gave it a whirl. But in the end, I fell in love. It's more than just a curiosity; it's a quick, easy way to achieve culinary effects you may want to leverage to make your meals more interesting without deploying big, complicated, time-hogging devices…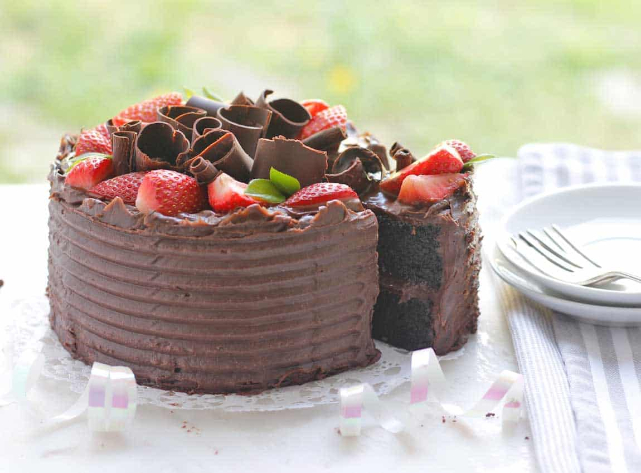 Scrumptious Chocolate Cake: Topped with Strawberries and hand-made Chocolate Curls…
Appliance makers boar that you can do just about anything using their products. In  fact, Food Processor and Stand Mixer makers have spent decades coming up with whole catalogues of attachments you can get to make anything from Ice Cream to Spiral Cut Apples or Potatoes. But what about when you just want a quick few slices of this? Or a garnish of that?
Answer is right in front of you
My answer, now, is to reach for my Potato Peeler. I used to dirty up all sorts of appliances and non-power devices when making recipes that called for just a few slices of something for a Salad or Ratatouille, or a Nouvell Pasta Sauce. I remember one afternoon when I ended up with the Food Processor, the Stand Mixer Mandolin and a couple of other gadgets I fell for when I saw their Food Network commercials – all in the sink or dish washer at the same time. The meal was great, but the inevitable cleanup kind of took the elegant, joyful edge off of it for the Chef (me).
Now, I know I could have just picked up my trusty old Potato Peeler, and cut the prep and cleanup time and effort by about three quarters!
The obvious…
Is there anyone out there who still doesn't know that the little loopy thing on the end of the Peeler head is for digging out the Potato Eyes.
But did you also know it can be used sideways, in long, vertical 'swipes', to make quick, thin, uniform Potato Sticks that pan fry in minutes crispy on the outside and tender-chewy on the inside?
I even saw a silly 'Food Hack' video somewhere in which a guy put a fork in a power drill, stuck the business end in the butt of a Potato, and spinned the tuber at just the right speed to take off a perfect Shoestring Fry Spiral. Now… Engage your imagination, and envision what other cuts you can make while you still have the Spud on the spooler. And remember, anything you can do with a spud, you can do that with an Apple, too…
What else can you do?
There's really nothing faster or easier than a Potato Peeler for slicing a Veggie like a small Zucchini (see photo, top of page), Eggplant or Carrot, or even a Celery Stake. Try it on other Veggies and see what it can do!
A bartender once showed me how to use a common Potato Peeler to whisk the Peel off of an Orange, Lemon or Lime. Perfect for Baking Prep as well garnishing Drinks. Never harms the underlying Fruit; leaves the white pith intact.
Use the little eye-gouger loop to remove the hulls from fresh Strawberries. It's the easiest way I've ever found to do this job!
Ever pay something like $25 at a resto where the servers wear white gloves and Tuxedos, for an elegant plated dessert topped off with a delicate, scrumptious Chocolate Spiral? The Pastry Chef probably shaved it off a nice big block of Dark Chocolate with a plain old Potato Peeler.
Likewise, use a Potato Peeler to shave off nice slices or curls of hard or semi-hard Cheeses for whatever Salad, Garnishing or topping application you want to fancy-up.
Use your Peeler to shave off thin, even slices of Potato to make your own Potato Chips!
Cut an Onion in half vertically when use your Peeler to shave off paper thin slivers for Sandwiches, Salads and other applications.
If you have a steady hand, you can probably learn to use a Peeler to make pretty little Radish Flower Blossoms to garnish Sandwiches, Salads and other fancy mains.
Just the beginning…
This – as far as know – is just the beginning of what you can do with a nice, clean, sharp Potato Peeler. Put on your thinking cap, peer into your pantry, and prep something special!
Don't be afraid to Google to your heart's content to force the Internet to give up its deepest Peeler secrets.
And remember, most Potato Peelers are safe for kids to use. Get them in on the game and see what they can come up with!
~ Maggie J.