The second wave of COVID-19 is upon us. And not just because it was expected as Flu Season 2020-21 dawned, but because thousands of people decided to ignore urgent warnings from the experts to maintain separation and masking precautions. A landslide of 'complications' has made us easier targets for the virus…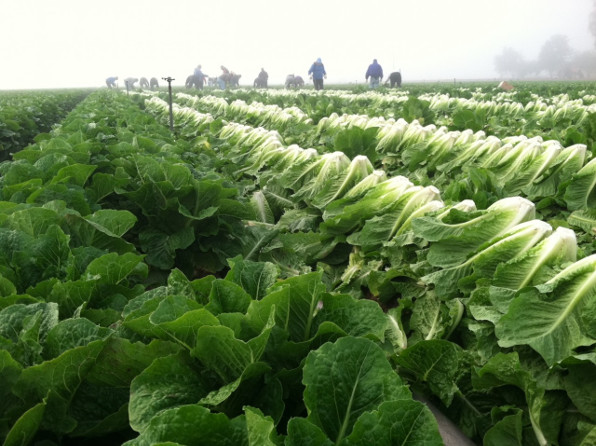 Mile-long rows of Romaine in California: Identified as origin point of
previous flu-season outbreaks of Lettuce-borne food poisoning…
Here in Canada, government and health system experts are hunkering down for a winter of many discontents as various extra issues are cropping up that could weaken large swathes of the population and make us easier targets for already virulent pandemic bug. The one unifying characteristic for this wave of 'complications'? A connection with food and food handling procedures…
Right now: Salmonella spreading in the north
A Salmonella outbreak that has quickly spread through British Columbia, Alberta and the Yukon has made at least 8 people seriously ill and killed at least one has been traced to a popular brand of dog treats that is sold in all provinces and territories at Canadian Tire and Save On Foods stores.
Public Health Canada warns pet owners not to give their dogs Paws Up! and Western Family brands of Pig Ear dog treats. The agency also recommends that
Salmonella is a serious food-borne illness that is easily transmitted by eating infected foods and can be transmitted simply by handling them. It's most commonly associated with Eggs and Poultry products that have been stored or handled improperly but can be carried by a wide variety of foods.
According to a Notice issued by Public Health Canada last week: "Always wash your hands right after handling dog treats, and ensure that all areas the treats have come in contact with are properly cleaned and sanitized."
The notice goes on to say, those most at risk of catching Salmonella include: "children aged 5 years and under, older adults, pregnant women or people with weakened immune systems." And that puts them in the same demographics as those most vulnerable to COVID-19. "Most people who become ill from a Salmonella infection will recover fully after a few days. It is possible for some people to be infected with the bacteria and to not get sick or show any symptoms, but to still be able to spread the infection to others."
Within days: Flu season is also Lettuce-borne food poisoning season
Effective this week, from October 7, 2020, the Canadian Food Inspection Agency (CFIA) will require that all Lettuce imports from the U.S. conform to especially stringent inspection and handling safeguards. There have already been a number of Lettuce-related food-borne illness alerts this year, and the 'season' when the most issues arise is just beginning.
A notice just issued by CIFA requires that Romaine Lettuce undergo extra-stringent sampling and testing prior to import into Canada:
"The CFIA will require importers to either provide proof that Romaine Lettuce does not originate from counties in the Salinas Valley," the notice says, "or provide an official certificate of analysis from an accredited laboratory confirming that the lettuce has below-detectable levels of E. coli.
"From 2016 to 2019, romaine lettuce from California was linked to outbreaks of E. coli illnesses in the USA and Canada. Food safety investigations by Canadian and US authorities identified the Salinas Valley growing region as a recurring source of the outbreaks."
Growing Areas in Texas and Arizona have also been identified as the origin of some E. coli outbreaks in precious years, but those regions are not included under the current elevated inspection standards. The CFIA also says there are currently no active outbreaks of food borne illness in Canada linked to imported Lettuce. The new measures are strictly proactive preventive measures.
"These new temporary measures apply to Romaine Lettuce as well as mixed salads containing romaine."
The idea is that, this year, when the dark veil of the COVID-19 pandemic has been cast over the whole public health scene, CFIA wants to limit or, ideally, eliminate the usual seasonal E. coli and Cyclosporin outbreaks which would just make COVID-19 sufferers weaker and sicker.
A final complication: Flu shot availability 'unclear'
Just when the annual Flu shot will be available, and how many doses will be available, remains 'unclear' according to reports from Ottawa area physicians from large practices and small, alike.
Dr. Alan Drummond, an emergency and family medicine doctor in Perth, just west of the National Capital Region, told the Ottawa Citizen newspaper, "his clinic received a memo from the province saying, essentially: "Whatever you asked for, you are going to get less," at least initially. He said he has historically received 400 vials of influenza vaccine for patients. He said this year demand is significantly higher and he could use as many as 800 vials, but has been told to expect around 300 initially. He has 1,300 patients."
Drummond says he has also been told not to organize large vaccination programs before the middle of next month, when significant volumes of this year's vaccine are available. The official release date is October 15, "but there is no guarantee."
The good news? When the 2020 flu vaccine does arrive, there will be two grades, as usual: a regular strength version for most most folks and an extra-strength version for seniors.
The Canadian Association of Emergency Physicians, which is among the groups calling for a strong influenza vaccine campaign this year to avoid what some have called a potential 'twindemic' of COVID-19 and flu, warns in a recent statement, "Our hospitals and health system routinely face significant issues in dealing with the impact of seasonal surges due to flu. A coincident second wave of COVID-19 would stretch our capacity, worsening the morbidity and mortality of our communities."
Stay tuned for further developments as they appear…
~ Maggie J.