Arby's – the guys who boast that 'We've Got The Meats!' – are test marketing Deli style take-home sales of sliced signature Arby's Sandwich meats. Time to start creating your own Arby's Sandwiches? Or are pandemic-slammed Fast Food joints looking at new business model options?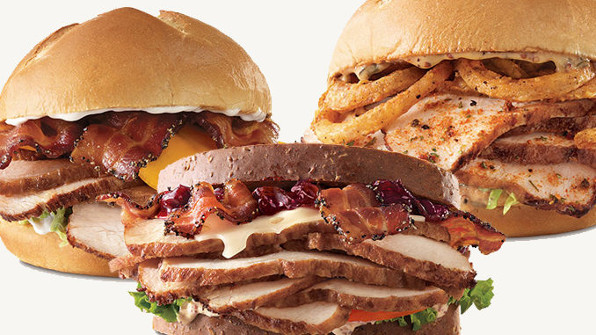 Arby's Deep-Fried Turkey Sandwich Specials…Would you bother to make 'em at home?
Precursors…
We've already seen most of the big Fast Food chains offer what you might call Meal Kits, or what they call home Sandwich, Taco and other 'bar' or 'buffet' packages. Then there were entire prepared Meal Deals meant to re-heat (if necessary) and serve off the 'good China' for special deals such as Valentine's Day, Mother's Day and Father's Day. And, of course, there have been several waves of Family Meal Deals. All were designed for take-out or deliver and all were meant to be complete meals in themselves.
But now one of the major players is trying something similar in some respects, but fundamentally different: marketing their fresh ingredients for take-home in a totally deconstructed context for folks to use in their own culinary creations.
What they're doing
The new program, the slogan for which is 'Bring Home The Meats', has its own label designs (which appear on stickers that go on otherwise-ordinary heavy-duty, double-zip-closure clear plastic bags) and its own simple menu.
You can order full-pound / 454 g and half-pound / 225 g portions, pre-sliced, of Arby's Roast Turkey, Corned Beef or Ham. Order, pay and pick-up exactly the same way as you would anything else off the Arby's menu. Prices are in line with what you'd pay at the Supermarket Deli counter or the Deli for the equivalent products.
The marketing trial is on now at selected Arby's outlets in the Atlanta, GA, area.
Why are they doing it?
I guess Arby's stated reason for selling its Meats Deli-style – because customers have been asking for the option – is legit. They've been getting inquiries about Arby's Meats 'in bulk' at the stores, and the results of recent survey showed that customers of Arby's and similar restaurants wanted the option.
Still, I'm wondering how their implicit decision not to also sell their Roast Beef in the same format fits into the picture. You'd think that the chain's signature Meat would be a natural to include in such a program. Whatever the deal, Arby's officials are all toeing the same official line.
"It's not a gimmick. It's about meeting an unmet need," Arby's Chief Marketing Officer Patrick Schwing told CNN Business. "We never felt compelled to do it until now because we know we can deliver a high-quality product with a great convenience versus going into a deli or grocery store."
Really?
A 'compulsion'…
I ask that you not condemn me out of hand as a conspiracy theorist. I'm just speculating. Anyway, I'm guessing that regular-menu Sandwiches containing Arby's several versions of Roast Beef are selling just as well as usual, though other Sammys are not. So they may have motivation to sell off surplus Turkey, Corned Beef and Ham in other ways. After all, all their meats have Best Before dates.
Also, operations like Fast Food outlets that use fresh ingredients invariably are trapped in long-term contracts for regular delivery of those ingredients, and it's up to them to use them up, throw them away or resell them to offset their cost. You may recall that Panera even started up a relatively-short-lived 'groceries' business selling its surplus fresh ingredients to its customers after the pandemic crisis caused its regular menu sales to drop off dramatically. Same 'compulsion' as Arby's, I'm thinking…
Even Sysco, the largest supplier of wholesale food and service products to restaurants, hotels and institutional kitchens in North America, has began offering selected products direct to the public to keep the supply chain moving and to keep cash rolling in.
Anyway, I'm sure Arby's isn't just trying to 'clear' products that are getting too close to their Best Before dates. But company spokespeople and industry observers quoted in news stories haven't been any too eager to comment on whether Deli-style sales of their Meats will continue after the COVID-19 crisis is over.
My take
It would be great if Arby's continued to sell its signature ingredients alongside its regular menu items, but that hasn't been a major trend before. It's clearly counter-intuitive for a Sandwich Shop to facilitate the home-prep of products equivalent to its core menu items. Folks could easily create customized versions of the shops' menu items and, by shopping the supermarket specials for Bread products and Condiments, and make them cheaper, as well.
I'm not counting on any Fast Food chains (or other restos, for that matter) continuing to sell 'signature' or perishable ingredients of any kind directly to the public after the COVID-19 crisis is over.
~ Maggie J.