When I was a kid, this was one of my mom's go-to family suppers. One dish, ten minutes to prep and one happy family at the table! You're going to be surprised at some of the ingredients I'll specify. But the dish just isn't the same without them! Give yourself a break and celebrate your childhood…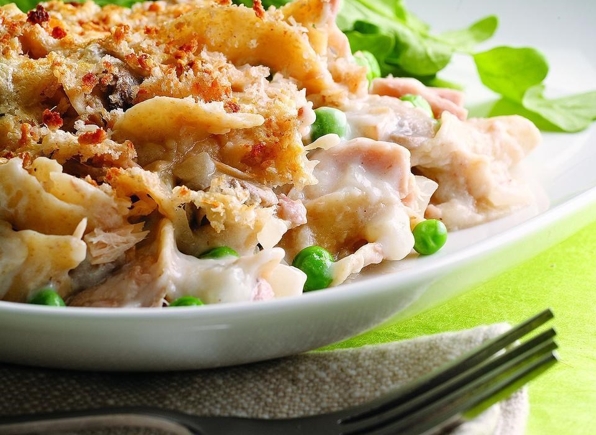 Classic Tuna Noodle Casserole… A little taste of your childhood!
When I was little, we had this classic dish once a week, on a weeknight. It was easy for Mom to make and we all loved it. Even Dad, who was suspicious of anything with 'Cream Sauce' on it!
What you need…
5 cups Egg Noodles, cooked
1 cup / 250 ml Green Peas, frozen
1 can (10 oz. / 300 ml) condensed Cream of Mushroom Soup
1 cup / 250 ml Sour Cream
1 cup grated Parmesan or Romano Cheese
1/2 cup / 125 ml Milk, 2% or whole
1/2 tsp. / 2.5 ml Salt
1/2 tsp. / 2.5 ml White Pepper
2 cans (5 oz. / 150 ml each) Tuna (packed in water), drained
1/2 cup / 125 ml Onion, chopped
1/2 cup / 125 ml Green or Red Sweet Pepper, chopped

For Topping
1/2 cup / 125 ml Bread Crumbs
2 tbsp. / 30 ml Butter, melted
Yes. I said Frozen Peas and Canned Soup. Believe me, it's just not the same without them! Grated Cheddar will also make a nice, tasty, ooey gooey casserole!
What you do…
Cook the Egg Noodles til they're just al dente. They'll cook further in the casserole.
In a large bowl, combine all the ingredients including the Noodles and fold gently to distribute evenly. Be sure to DRAIN the Tuna and DO NOT dilute the Soup!
Place mixture in a flat casserole dish in an even layer.
Mix the Bread Crumbs with the butter so that all the Crumbs are coated.
Sprinkle the Crumbs evenly over the casserole.
Bake uncovered for 30-40 min., until bubbly.
Serve piping hot!
And that's all there is to it…
~ Maggie J.