It's that day, again… Saturday, when we traditionally sift through the fast Food sector launches and announcements if the past week and bring you the cream of the cream. DQ is bringing back a beloved treat for summer and Arby's is breaking new ground with a Pizza-toppoing Slider…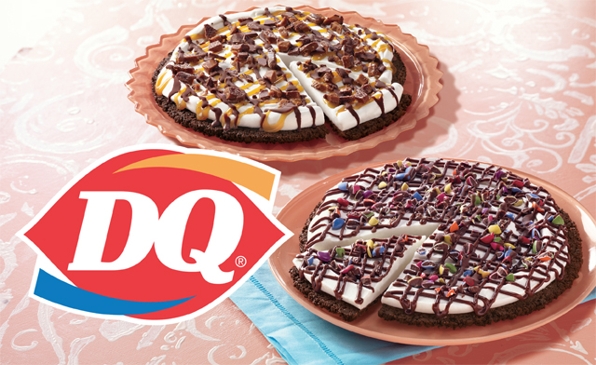 Dairy Queen Treatzza Ice Cream Pizzas. Shown: Reese's PB Cups (top) and M&Ms versions.
DQ catering to nostalgia, bringing back the Treatzza
Dairy Queen is bringing back its beloved Treatzza Pizza this summer. The confection consists of a Chocolate Cake 'crust' covered with DQ Soft Serve drizzled with Caramel or Chocolate sauce and garnished with all kinds of nifty sprinkles including M&Ms and Reese's PB Cup Chunks. The thing even comes cut into 8 slices like a regular Pizza.
If that's not your style, indulge in the retroness of DQ's new Misty Slush beverages. They're homage to the Mr. Misty slushies of the 80s and 90s and they've available in Cherry, Blue-Raspberry, Grape, Strawberry-Kiwi and Lemon-Lime flavors starting June 26.
Arby's now selling 'Pizza Slider'
This new 'Burger' (pictured as teaser image on front page of the FFB) is composed of layers of Pizza toppings, featuring Pepperoni, Salami, melted Provolone Cheese, and a Roasted Garlic Marinara Sauce on a Slider Bun.Sounds interesting, but messy. It's available until the end of June.
Kinder Eggs finally coming to U.S.
Canadians know Kinder Eggs like they know family: The chocolate eggs that crack open to reveal small toys. But, in the U.S., they've been banned for decades, because of the toy. The Federal Food and Drug Cosmetic Act of 1938 says the edible and the playable must not be in contact with one another.
Now, the maker, Ferrero International, is introducing a version of the treat in which the toy and the Chocolate/Creme are kept in separate compartments. Okay. All the flavour and the fun of a toy… But having it 'on the side' would really take the joy of discovery out of it for me…
Aus Ben & Gerry's banning same-flavour scoops
You read it right! But it's only at the chain's 26 Australian stores and only until the government legalizes same-sex marriage. It's currently not only not allowed, but outright illegal.
In a statement, B&J Australia said, "[Our] commitment is grounded in our company's core values and an unshakeable belief that everyone deserves full and equal civil rights."
The company is urging its customers to support the movement for legalization.
Skittles breaking new ground with 'Hot' flavours
Beloved iconic candy brand Skittles is launching a new line of 'spicy' flavours. Starburst is run by the same company and is also boarding on the spicy bandwagon.
The Sweet Heat Skittles will have a hard shell with fruit cores in Fiery Watermelon, Blazin' Mango, Flamin' Orange, Sizzlin' Strawberry and Lemon Spark. The Starburst flavours will be similar: Fiery Watermelon, Strawberry Mango, Flamin' Orange and Pipin' Pineapple.
Woman suing Jelly Belly for alleged 'deception' over Sugar
Last week, we told you about a woman suing Starbucks over its coffee, after she suffered burns from a Java spill. This week, another American woman, Jessica Gomez, is suing Jelly Belly Jelly Beans over alleged deception in its labelling and marketing. Her beef is that the comp[any does  not clkearly state that its products contain Sugar. Instead, the ingredients list on the package uses the phrase 'evaporated cane juice'. That's regular White Sugar, folks. Gomez says she bought Jelly Belly Sports Beans thinking they were Sugar-free. Curiously, the company recently changed its labelling to read 'cane sugar' in compliance with a US FDA recommendation. Not soon enough, apparently.
And that's it!
The best of the best for this past week. Tune in again, next Saturday for another exciting edition of Fast Food Week!
~ Maggie J.