Moving eastward – to Moscow, in fact – we'll stop at the historic home of the Tzars and learn the aristocratic secrets of Noodles Romanov. My recipe is very simple and yields a rich, Creamy, Buttery, Garlicy side dish that goes well with almost any protein entrée. Think of it as Russian Alfredo…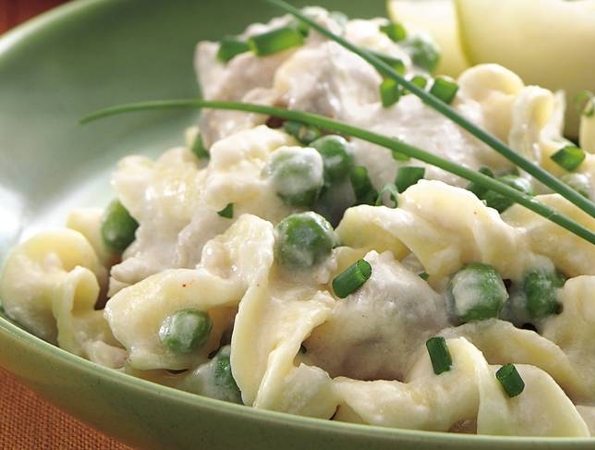 Classic Noodles Romanov. It's going to be a new staple in your Side Dish repertoire!
Like many of our previous Classic Dishes, this one is a lot simpler and easier to make than most home cooks think. The secret is a nice dollop of Sour Cream!
What you need…
1 cup uncooked Egg Noodles (serves 2 generously)
1/4 cup / 60 ml Sour Cream
1 tbsp. / 15 ml or so Butter, or so
2 tbsp. / 30 ml shredded Parmesan Cheese
1/2 tsp. / 3 ml Herbes de Province OR Herb Blend as below
1 clove Garlic, minced or pressed (more if desired)
1  good pinch White Pepper
For Herb Blend, if using:
1 nice pinch Thyme
1 nice pinch Parsley
1 nice pinch finely chopped Rosemary
For Garnish:
1 tbsp. / 15 ml minced chives OR one tbsp. Chopped Taragon leaves
2 tbsp. / 30 ml Grated Parmesan Cheese
What you do…
Cook the Noodles to the just-barely-al denté stage. Drain and set aside.
In a mixing bowl, combine the Sour Cream, Butter, first amount of Parmesan, White Pepper, Garlic and Herb Mixture. Blend well. There's enough Salt in the Cheese and the Butter to season this delicate dish properly.
In a sauté pan heat the Noodles until heated through. Add a little of the Noodle cooking Water, or a dash of hot tap Water water if the noodles have been standing aside and are dried out at all. When the water has evaporated, add the Sour Cream Mixture and toss until Noodles are thoroughly and evenly coated.
Top with sprinkles of Parmesan Cheese and Chives or Tarragon and serve immediately.
It's really that easy!
Try it with any entrée that calls for a pasta side dish or bed. You'll be making it often!
~ Maggie J.