Is there no end to the craziness that Burger vendors will go to, to differentiate themselves from the suffocating competition in their overcrowded culinary niche? Apparently not. We've already seen a number of variations on the classic Hamburger Bun, and even some non-bread attempts at patty housings. But nothing like these…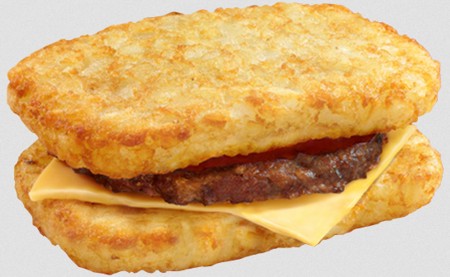 The Hash Brown Burger! Really! Truly! I went Googling and – low and behold –
I found one! They're doing this at (and, apparently, only at) the
Jollibee Burger and Fried Chicken fast food chain
in the Philippines…
It started with embellishments of the classic Bun: Whole Wheat, Rye and Kaiser Roll doughs, Onion and Cheese infusions and garnishes, and even a recent fad for 'Pretzel' buns. Then came the dark side: sweet rolls! Doughnuts gave way to Cronuts (a fad in themselves), and other way-out bread-like burger bases.
But, then, we introduced the totally off-the-plate idea of non-bread Hamburger Buns in this post. The so-called Mac & Cheese Attack ($15. from Rockit Burger of Chicago, IL) was our introduction to The Next Thing in Burger Buns. In that post, we hinted at even crazier stuff – like Sticky Rice Cakes.
Now, we must report that things have gone from fad to worse!
Ramen Noodles – another free-standing far-in-itself – has crossed the line into Burger Bun country!
So… What's next?
How about grabbing a pack of those pre-formed frozen Hash Brown patties and giving them the Ramen Bun treatment? Thaw them, reinforce them with a bath of Beaten Egg and fry 'em up in a lightly-oiled pan… Add a Burger Patty and fixings and away you go!
Or, how about making up a batch of Polenta and forming it up in a bread pan? Let it sit and solidify overnight and then cut into nice slices. give 'em a crisp in the aforementioned lightly-oiled pan and go to town – Burger Town.
I also have this wild fantasy about making up a batch of Chinese Bao (Steam Buns) without any filling, just to use as Burger bases! Make BBQ Pork Burgers and dress with Hoisin Sauce! Go nuts! You're already well over half way there…
Let me know…
If you actually try any of my farther-out Burger Bun ideas, or come up with any even-crazier ideas, please let me know how it turns out. I'll post your comments and pics…
~ Maggie J.