Well, McDonald's has had a big week for announcements. First, the pre-announcement involving those ominous black boxes saying to expect news on January 26. Then, the 'Big Reveal' of the new Mac Family with free Special Sauce. And, later yesterday, word that McDonald's All-Day Breakfast is coming to Canada!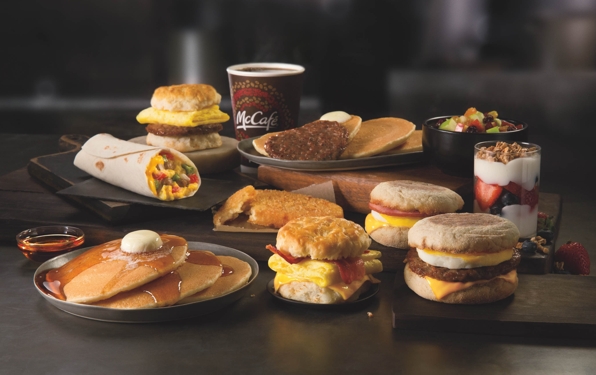 McDonald's All-Day Breakfast – official portrait…
Yes, McDonald's best idea in ages – All-Day Breakfast – is coming to 1,100 of the burger chain's 1,450 locations in Canada as soon as it can be rolled out. No surprise, given the small but significant sales bump All-Day Breakfast gave the company in the U.S. over the past fiscal quarter, as well as year-over-year for 2016. That was the best financial news McD's had received in about 5 years of sales stagnation. Not that the other chains – the McCompetition – didn't suffer, too.
A&W's unbeatable Al-Canadian Breakfast Special will soon be available all day, too!
But the breakfasting public had long demanded service that lasted past 11:00 a.m. And, when the idea was test marketed, diners responded enthusiastically. You can be sure the competition was watching with rapt attention. In fact we know that A&W, at least, were extremely interested in the success or failure of the McExperiment. They also announced, yesterday, that they were expanding breakfast service across the full business day at 95 per cent of their locations. That leaves Burger King and the rest to respond as fast as they can. If they choose to do so. But why not copy-cat something so good?
According to market research firm NPD, 1.24 billion of the 6.5 billion visits to Canadian restaurants between December 2015 and November 2016 were for breakfast. That's an annual increase of 6.3 per cent, but that increase came at the expense of Lunch and dinner visits, which slumped.
In all, Canadians consumed nearly 49 million more breakfast sandwiches at quick-service restaurants last year than in 2015, for a total of 536 million last year.
Both McD's and A&W will roll out their All-Day Breakfast schemes in Canada by the end of the month.
~ Maggie J.