A UK source reveals that tests of the ice at ten Starbucks locations in Britain found that three of those stores had fecal bacteria in their ice. Yuk! And that's got people the world over wondering what's going on at their local up-scale Coffee spot. It may be strictly a UK phenomenon, but…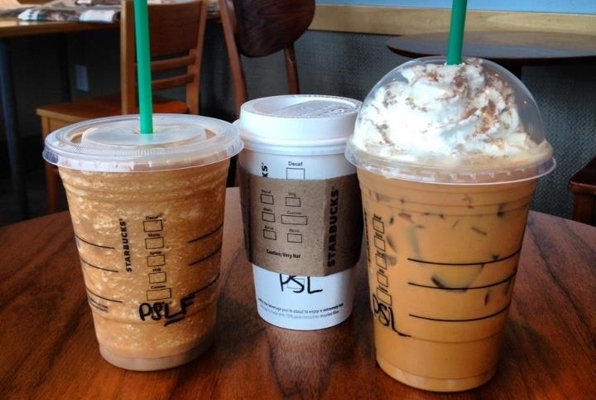 A selection of Starbucks beverages… Hold the ice!
The BBC conducted a test of the ice at three major UK up-scale Coffee shop chains and found fecal bacteria (i.e.- e-coli and related germs) in many of the samples taken. Three out of ten Starbucks locations failed the test. Likewise Café Nero. And seven out of ten samples at the popular Costa Coffee were found to contain bacteria.
The levels of contamination found were described as 'concerning' by Tony Lewis, of the Chartered Institute of Environmental Health, told the BBC, who added, "These should not be present at any level – never mind the significant numbers found."
Shop owners were shocked…
Chain spokespeople for all three companies responded to the BBC story stating that investigations were underway and that changes would be made to ice system maintenance and sanitation as found necessary.  I certainly hope so.
Not an isolated situation…
This situation is not unique to these Coffee outlets, nor is it unique to the UK. Around the world, restaurateurs and sundry other dispensers of iced beverages routinely assume that their ice-making machines don't need regular cleaning and maintenance because they process only water and, hey, they're making ice. Doesn't freezing kill bacteria? Apparently not, or not all types of bacteria, anyway.
How does the ice machine get contaminated? Could be a number of things… Employees who failed to wash their hands properly after going to the bathroom could have inoculated the system. unsanitary utensils, such as ice scoops and tongs, could have introduced bacteria. Scooping ice directly, using the beverage cup as a scoop, could also do the deed. And who's to say that bacteria don't just get dropped or blown, serendipitously, into the ice machine during the workday? Sanitation is a constant battle for operators of commercial and institutional kitchens.
So, think twice before ordering an inced beverage anywhere! You never know who's on the ball and who's slacking off on sanitation…
~ Maggie J.