Starbucks has announced it's pulling back from a recent expedition into the bakery business, closing about a hundred bakery shop locations it acquired in a takeover designed to jazz up the quality of it's bread and pastry treats. Too much trouble to actually bake on the premises.
Really?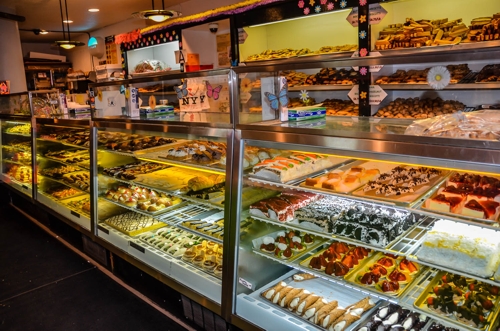 A typical retail Pastry Counter. Even at some higher-end shops, many specialties
and finicky items are bought in frozen. Profits are much more certain this way;
waste is tightly controlled and quality is guaranteed consistent and high.
Really.
Starbucks bought the La Boulange chain in California back in 2012 to quell complaints from customers about the quality and variety of it's food-menu items. Food sales increased respectably year over year since then, Starbucks reported. But it has decided to close the bakery shops citing 'unsustainable operations'. That usually means the costs are too high compared to the profits generated.
Two plants supplying the La Boulange stores will also be closed.
Wait…
Plants? As in factories? I thought that bakeries actually baked their products on the premises. Many purveyors of 'Fresh Baked' goods advertise "Baked On Site" or "Fresh Baked Here Daily". What gives?
It's a Dirty Little Secret of the Foodservice and Food Retail industries. While the claims that Baked Goods are 'baked' on site are technically true, many of us would dispute the sincerity of such statements. That's because… Virtually all 'Store Baked' products are manufactured at huge plants in one or two places in the country, then shipped out frozen to all the little retail joints across the land. There, they are stuck in an oven and baked according to instructions for between 20 and 30 minutes before being laid out on real bakery racks to cool and be displayed.
It's true…
Nobody bakes from scratch – or even from a mix – in-store anymore. Except maybe those little one-off, back-street Mom and Pop operations that specialize in ethic delights and Wedding Cakes and such, or 'artisinal' bakers that charge $6 a loaf for 'special-recipe', 'hand-made', 'small-batch'… Sandwich Bread. Too time consuming. Too expensive. Can't find people who know how to do it.
Tim Horton's faced a major backlash a few years ago then they stopped store-baking their doughnuts (and other treats) in favour of re-heating factory-made items. But they claimed they had to do it to keep costs down and remain competitive. Now, everybody does it. Even Starbucks – and they've admitted it's 'not sustainable' to run little bakeries, even when you're using frozen products.
Your supermarket's in-store 'bakery' operates on the same principle. In my neck of the woods (Canada) Loblaws/Superstore actually bought Vancouver bread and pastry giant Ace Bakery and converted all it in-store bakeries to 'Ace' Bakeries. The stuff all comes in frozen. Great Canadian Cakes (also of Vancouver) provide the majority of Slab Cakes, Squares, Mille-Feuilles, Napoleons, cookies and other sweet stuff you find at supermarket pastry counters and on restaurant menus. Just thaw, cut and serve. Caterers, in particular, love this approach. They can offer fresh-baked' Bread. Rolls and desserts as easily as shoving them in the oven for half an hour or letting them thaw overnight in the walk-in.
And… There are literally thousands of different items available through bakery supply wholesalers.
But there's more…
Yes. even those little one-off, Mom and Pop, artisinal joints make use of 'prepared' bakery goods from time to time.
Makes perfect sense when you're talking about Puff Pastry or Phylo sheets. They've always been made by master craftsmen (and women) whose trade has been passed down through generations. Except that, now, it's precision machines operated by experts that turn out tonnes and tonnes of these specialty doughs – and ship them frozen across the world. I'll own up. The Puff Pastry I use, obtained through a bakery supply wholesaler, is imported from Belgium. All-butter, slightly sweet and delightfully puffy – every time.
So…
If you want Fresh, preservative-free, additive-free breads and rolls, you have to go to an ethnic bakery or a neighbourhood one-off. And, there, if you're 15 minutes late, they may be sold out of your favourites for the day!
At Maggie J's, we make our Bread and Rolls fresh, from scratch every time.
Enjoy.
~ Maggie J.