It's been a while since we heard from Pizza giant Pizza Hut. They had a flurry of new product reveals about a year ago, but it's been Tim's, Burger King and McDonald's who have hogged the headlines in the interim. Now, The Hut is making up for lost time – and a beaten-down marketplace profile…
In short…
Pizza Hut has been facing tough times lately. Sales are down significantly and something had to be done about the brand's declining market presence.
The Pie…
The pie is essentially a re-issue of a previous Pizza 'innovation' – the Hot Dog-Stuffed Crust:
This version is from New Zealand, and features 'Cheesy Hot Dogs' with a Hot Sauce drizzle.
There was also a campaign (again, with limited-time availability) showcasing pizzas like these: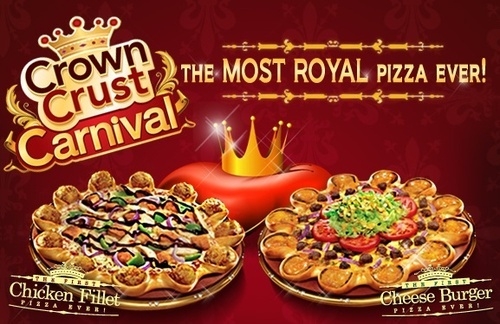 These Pies, from Pizza Hut China, were just two of several offered for a few weeks only,
featuring the pocket-edge crust configuration. One was a Tempura Shrimp Pizza
with Hot Dog-stuffed crust pockets.
Now, The Hut is reviving its limited-time only Hot Dog-Stuffed Crust concept with something marginally new – and guaranteed to appeal to old school finger food aficionados: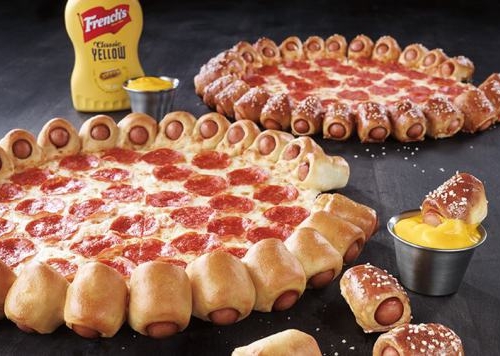 Yes! It's The Return of Pigs-In-A-Blanket!
The new limited-time-only Pizza Hut Stuffed-Crust line features a 'crown' of Pigs-In-Blankets hors d'oeuvres
Meanwhile…
There's an ongoing controversy over who invented the Stuffed Crust. Turns out a Brooklyn, NY, family-owned pizzeria patented the Stuffed Pizza Crust concept years before Pizza Hut claimed to have invented it. Pizza Hut still made hay with it though and, by the end of its first year on the market, the Stuffed Crust Pizza Hut selections proved a huge success. Now you know.
The Box…
But here's the really interesting thing… The New Weenie-Crust Pie comes in a special box that converts to a smart phone image projector. No, it's true. Part of the box is actually a lens that can project a smart phone screen image onto a nearby wall or other white(ish) surface.
The Blockbuster Pizza Box: Ready for showtime!
Perfect for group viewing while sharing a new Weenie-Crust Pie… And you get a QR Code on the side of the box that you can scan with your smart phone to get a free movie download. They thought of everything!
How good is the projector? If you try it, let me know!
For now, the Blockbuster Box is only available in a few select markets. It's unknown whether any of those are in Europe or North America…
~ Maggie J.