My mother is 91 and has major mobility challenges. It's a big production to get ready to go out anywhere. But there's nothing wrong with her taste buds! So we do a fancy Mother's Day Brunch in, rather than fussing to get dressed get mobile to go out to a crowded restaurant.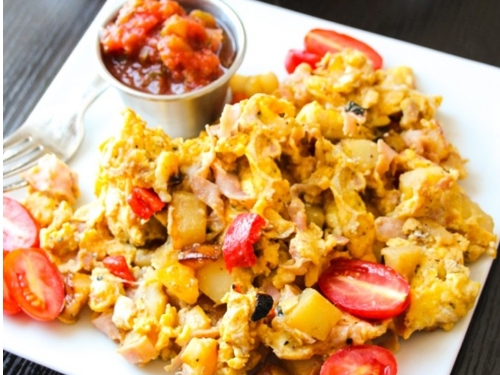 Perfect Scrambled Eggs: If you feel energetic, add Sautéed Mushrooms and
Halved Cherry or Grape Tomatoes for a little extra richness! Serve with
Country Fried Potatoes and Crumbled Smoky Bacon.

Mom has always loved her food and, though her arthritis is crippling and her hearing is fading, she still loves well-made, simple dishes using quality ingredients. She's always had elegant taste in all things. So we have a good time, she and Erin and I, making a fancy Mother's Day Brunch. Here's what we're having this year…
Appetizer…
Smoked BC Coho Salmon with Whipped, Herbed Cream Cheese on Freshly Baked All-Butter Croissantes.
We buy ready-made Puff Pastry Dough, imported from Belgium. It's amazing. And not too expensive, either, considering. Anyway, after thawing about half way, we cut long triangles of dough and roll them up from the baste of the triangle to the tip. Long triangles ensure nice fat Croissantes! I like to brush on a little Egg Wash to give the finished Croissantes a deep golden brown, glossy finish. Leave lots of space for puffing when arranging them on a cookie or baking sheet. Line the sheet with parchment paper to avoid major cleanup afterward. Bake at 350 F until fully puffed and golden; say half an hour. Let them cool to room temp before slicing and filling.
If your Smoked Salmon is frozen, take it out an hour before you want to assemble the Croissantes to thaw fully. Otherwise, you won't be able to separate the delicate, thin slices without breaking them.
Use a brick (8 oz. / 225 g) of regular Cream Cheese with four or five tablespoonfuls of Sour Cream or Greek Style Yogurt and a squeeze of lemon for the Cheese mixture. Blend in the bowl of a stand mixer or mash together with a spoon and carry on blending until smooth with your hand mixer. Add Dill, Thyme and a little Mint to taste. Don't go too heavy on the Thyme or Mint!
Slice the cooled Croissantes close to the bottom of the roll to allow for the most surface area to dress. Cover the bottom of the roll with Cream Cheese Mixture. Use lots. Cover the Cream Cheese with Smoked Salmon Slices to taste. Two layers of thin slices is about right. Gently replace the top of the roll and arrange rolls on a fancy serving platter to serve.
Hint: You can make small, 2-3 bite Croissantes as easily as big ones. They're something a little more special for Mother's Day and more appropriate, I think, for appetizers!
Entrée…
Scrambled Eggs with Smoky Bacon and Country Fried Potatoes.
Cook your bacon in the oven, on a baking pan or cookie sheet lined with parchment paper. Twenty-25 min at 350 F should give you the crispy, crumbly bacon you want for this dish. And the slices should remain more or less flat. When done, drain off the rendered fat into a fry pan and set the Bacon aside on paper towels to drain.
Get the Potatoes going in another pan, the one with the Bacon Fat in it. Cut them in about 1 cm / 3/8 in. cubes and cook at just a little above Medium until they're golden brown and fork tender. Don't add Salt. There's plenty in the Bacon fat! But do add a pinch of White Pepper. When done, drain on paper towels and set aside on 'Keep Warm' or in a 170 F oven.
For the Eggs, crack one Egg person into a large bowl. Whisk the Heck out of them until the yellow colour of the Yolks starts to lighten. Add a dollop of Cream – any weight – plus a pinch or two of Salt and White Pepper (depending on how many Eggs are in play) and whisk some more, until all ingredients are completely combined and the Egg Whites are no longer lumpy. Scramble the Egg mixture quickly in a new pan, which has been heated to Medium and brushed with high-temp resistant Oil such as Canola or Sunflower. Just before removing the Eggs from the heat, grate in some Parmesan or Romano Cheese (to your taste). It will quickly melt into the eggs. Yum! Don't over-cook the Eggs! Leave them a little more moist than you usually like them. They'll carry on cooking after being taken off the heat.
On serving plates, first spoon on a generous helping of Potatoes. Crumble a couple of slices of Bacon on top of each serving of Country Fries. Finally, spoon on a decent-sized serving of Scrambled Eggs, on top of and just to the side of the Potatoes. Serve Immediately.
Dessert…
Strawberries and Whipped Cream, of course.
Halve or quarter the Berries (depending on size) lengthwise after removing the green leaves on top. (Do this early, before getting the Entrée ready and let macerate (like marinating, but sweet!) for at least an hour or so in a generous Pour of Maple Syrup. Gently turn the berries in the Syrup to ensure they are evenly covered. (You can even do it the night before, if you like.) To serve, spoon some Whipped Cream into the bottom of a Balloon Glass or Sundae Glass, if you have them. Follow with  Berries and top with more Whipped Cream. If making your own Cream, make sure you add ample Vanilla. It's best buds with Strawberries and adds supreme richness while cutting the sweetness of the Syrup a but. Top with a whole Fresh Berry.
To toast mom…
Nothing makes Mother's Day Brunch more special than a Strawberry Mimosa, which goes as follows…
In a tall chilled Champagne Flute, combine a nice teaspoon or so of the juice from your Maple Syrup Strawberries. Drop in a few thin slices of Strawberry, or garnish with half a Berry on the rim, and top up with ice cold Champagne. I know… You're saying that Mimosas usually have a nice hit if Orange-Brandy liqueur, but this one is for consumption in the a.m. and the Champagne will probably pack enough of a punch to get everyone giggling all by itself.
Hint: Practice these Mimosas beforehand, tasting each version carefully. It make take two or three tries to get the proportions of the ingredients just right.
Here's to you, Mom!
~ Maggie J.