Today is 'Leap Day', that sneaky February 29 that comes around every fourth year to make up for the fact that our journey around the sun actually takes 365.25 days – not a nice, neat, tidy, even 365. It's not an official holiday but it's a special day, nonetheless. How do you plan to celebrate?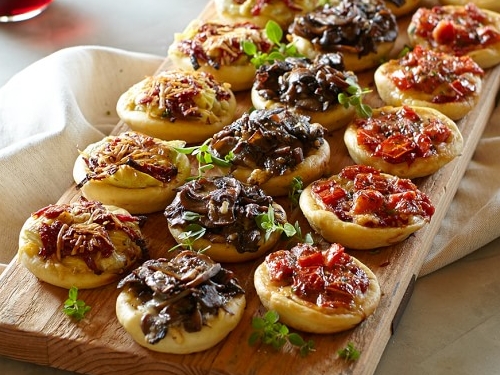 Start your own Leap Day Culinary Tradition: How about an Italian menu in honour
of Julius Caesar, who invented the occasion? Mini Pizzas are de rigueur here!
First and foremost, those folks actually born on February 29 will be celebrating a special birthday. We hope they party hearty into the wee small hours of March 1 and make the most of this once-every-four years opportunity. Please note: Leap Year babies may register to join the Honor Society of Leap Year Babies.
But what about the rest of us?
There is a delightful European tradition that bears mentioning! In Ireland, it is traditional for women to propose to their perhaps reluctant suitors on Leap Day, under an agreement that was allegedly struck between St. Brigid and St. Patrick. And, if a man turns down a Leap Day proposal from a woman, he must buy her 12 pairs of gloves to compensate her for losing him. That's right, guys! You're worth a mere 12 pairs of gloves, even on Leap Day! The idea is that she can hide her bare ring finger and avoid any abiding shame.
Leap Day is also the proper time to celebrate St. Oswald's Day. He was an early Bishop of York, in England, who died on February 29, 992.
For the record, Leap Year has been around for just over 2,000 years – since Roman Emperor Julius Caesar introduced the 12-month Julian Calendar. Named after himself, of course.
Eat it up!
It seems there is no traditional culinary way to celebrate Leap Day. But don't let that stop you from celebrating!
Pressed by friends and FFB readers for Leap Day recipe suggestions, I reacted much the same way I did when quizzed on Ground Hog Day recipies. In contrast to that exercise in absurdity, i dohave sone suggestioons for Leap Day:
Hasenpfeffer – A traditional German Rabbit Stew made with Bacon, Wine, Garlic and Shallots, and served with traditional German Potato Dumplings or Spaetzle.
Frog's Legs: A French favourite. Frog's Legs lightly breaded or simply dredged in milk and Flour, served with a savoury Rice Pilaf and accompanied by lightly sautéed Spring Vegetables.
Kangaroo Steaks: If you can get 'em. Many specialty butcher shops, especially in well-heeled neighbourhoods, now regularly carry Ostrich, Emu and even Kangaroo cuts for their discerning clients. If you want, though, just substitute Lamb or Veal Shanks and Prepare as Osso Buco. Serve with the pan juices over a nice Risotto, and don't tell anybody you changed out the meat! They probably haven't had Kangaroo before either, so who's to call you out?
Or, you could embrace the Rule of Four…
If you haven't heard of this one before, that's okay. I just made it up.
In short, if we have three main meals on any ordinary day – Breakfast, Lunch and Dinner – then we should celebrate Leap Day by adding a fourth!
Stay up late and see Leap Day out with a Midnight Supper:
An Italian Themed Menu (in honour of Julius C.): Lasagna, Baked Ziti and Eggplant Parmesan, with a side of Garlic Ciabatta or Olive+Rosemary Foccacia Bread. How about a tureen of hearty Italian Wedding Soup? Mini Pizzas and Baguette-based Bruschetta Bites are simply de riguere. And don't forget the Antipasti array and the Meatballs!
A Comfort Food Array: Mac & Cheese, Chili, Garlic Bread or Ciabatta Buns. Dressed-up Toasted Cheese Bites (starts half way down the link page) and/or a dress-it-yourself Nacho Bar.
A Seafood Spread: Might include a traditional Chilled Shrimp Ring and Dip, Half-Shell Raw Oysters, Oysters Rockefeller, Scallops Wrapped in Bacon, or Smoked Salmon and Herbed Crème Cheese on Mini Bagels or Croissants. Clam Chowder would be a nice touch, too.
Fire up your imagination and take off from there… And start your own Leap Day Culinary Tradition Today!
~ Maggie J.