The result is in! And it's an upset victory for the former champ at the 2016 Nathan's Famous Coney Island July 4 Hot Dog Eating Contest. It's also a new record for the champ and a big upset for fans of last year's champ who many favoured to repeat the feat this year. Here's how it went down…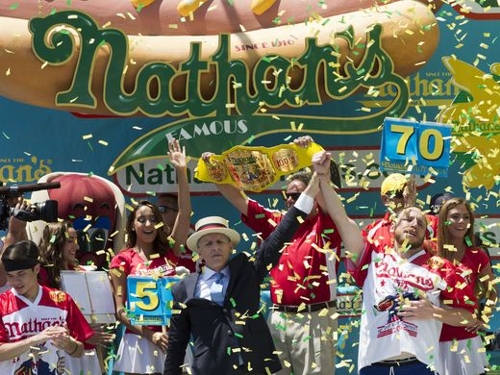 The Big Moment: Eight-time Champ Joey Chestnut is crowned 2016 winner
of the Nathan's Famous July 4 Hot Dog Eating contest.
Eight-time event Champ Joey Chestnut of made it 9 yesterday, taking the 2016 Nathan's Famous Hot Dog Eating Contest  by a healthy margin of 70 dogs (with buns) to just 53 for challenger and defending Champ Matt "Megatoad" Stonie. That's nowhere near the number of Dogs he downed to take the 2015 title.
On top of regaining the title, Chestnut upped his all-time record for the event by one single dog, to an even 70. He managed to cram 73.5 Dogs in a qualifying event for the Nathan's July 4 Championship, but that's only a record for the qualifier. Still, it proves that the Hot Dog Eating Championship still has room for growth in the future. Try to imagine a world in which the ultimate record for gluttony was never again to be surpassed…
Anyway…
It's definitely not the end for Matt Stonie. He just had an off day, yesterday. And he's still the undisputed Champ in several other Internationally recognized competitive eating categories:
Bacon – 182 strips in 5 min.
Birthday Cake – 14.5 pounds / 6.6 kg in 8 min.
Peeps (Marshmallow Chicks) – 200 in 5 min.
Silver Dollar Pancakes – 113 in 8 min.
I just can't get my head around that Birthday Cake record: 14.5 pounds in just 8 minutes? When he dies, they should preserve his Stomach alongside Einstein's Brain in the Smithsonian, as a biological Wonder of the World!
On the Women's side…
Miki Sudo, the Pride of Las Vegas, favoured to three-peat on the title this year, upped her record of 32 Dogs with Buns in 10 minutes to 38.5 to take the 2016 Championship. Runner-up Sonya "Black Widow" Thomas could only manage 34. Must have been tough for Thomas. She held the title for several years, up to 2011. Like all pro athletes, it seems, even Hot Dog Eaters must, one day, call it a day…
And that's all 'til next year!
…on the Competitive Hot Dog Eating Circuit…
~ Maggie J.