You heard it here almost first. Tim Horton's parent company has decreed that the firs free-standing Tim's in  the U.K. will open in Glasgow later this spring. One wonders how a Coffee-themed take-away joint will fly with a Tea-themed society, but execs say the brand will be a 'great fit'…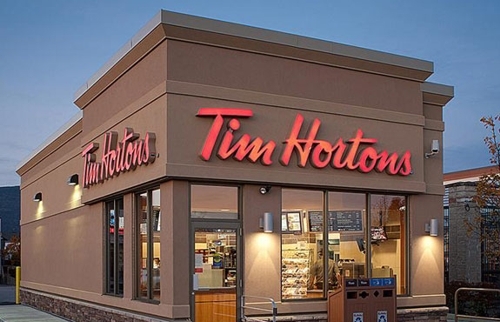 The latest design for freestanding Tom's stores. Look for one
in Glasgow in the next few weeks!
"It's hard to explain just how important Tim Horton's is to Canadians – it's not just a restaurant, it's a way of life and a place of 'home,' and we're positive Great Britain will fall in love the brand," Gurprit Dhaliwal, chief operating officer of Tim Horton's UK and Ireland, told the Evening Times
A number of kiosk Tims' have have already been opened and Dhaliwal says they've been a tremendous success. The new stand-alone store will be on Glasgow's tony Argyle St., in the thick of the downtown core.
As for the head office of Tim's parent company…
"This deal is part of our growth plan to take the iconic Tim Horton's brand around the world. Great Britain is an attractive quick-serve restaurant market with a strong and growing coffee culture, so it is a natural fit for the brand," Daniel Schwartz, chief executive of Restaurant Brands International (RBI) told reporters at the announcement.
So… We'll watch with great interest as the U.K. Coffee Culture continues to develop and 'Tim' strives to become a citizen of the world. If any company has the cash to make it so, RBI does.
~ Maggie J.