Remember back in July when we told you Tim Horton's was expanding into the Philippines? That was the opening shot in a crusade by Tim's new corporate owners to take the brand global. And they're wasting no time. First it was the Philippines, now plans are already afoot to invade Great Britain…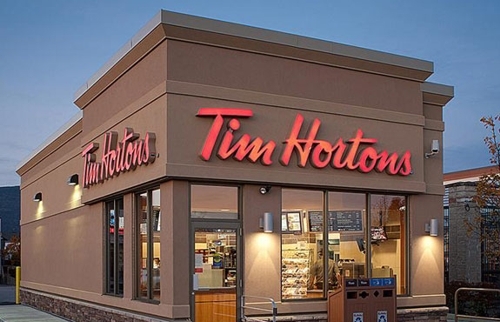 Soon to become a familiar feature in UK neighbourhoods…
A Horton's spokesperson confirmed to Canadian Press that Britain – including England, Scotland and Wales – has a strong and growing coffee-culture and is seen as a great opportunity. Daniel Schwartz, CEO of Restaurant Brands International (RBI), Tim's owner, says Horton's want's to be a leader in the market.
Strong coffee culture?
Okay. I had not heard that the U.K. has a 'strong and growing' coffee culture. But if RBI says so, it must be so. And I can see it when I consider how many immigrants from coffee-loving countries have come to the UK in the past few decades. But will Tim's-style coffee chops play there? And how about that Canadian icon, the Double-Double? How will that play with folks who still quibble about whether to garnish their Tea with Lemon or Milk. Not Cream, mind you; Milk. We'll see…
What happens in GB…
The GB Tim's business will be done on a Master Franchise bases. And that's something you probably didn't know about franchising: RBI will grant a successful bidder the overall Master Franchise for GB and the Master Franchisee will take care of licensing outlets across it's territory. What happens in Great Britain stays in Great Britain. Except for the profits, of course, which will flow back, relentlessly, to RBI.
Where next?
So… Where next for Tim's? If I was a decision-maker at RBI, I'd target markets in cold climates and European countries where café culture is already deeply ensconced. But, given that the Philippines was the first market targeted by RBI after it took over, the brand's next international move could come anywhere…
~ Maggie J.