I've referred before to my early education in Italian cookery under the tutelage of Mrs. Indovina. She lived across the street in a little white stucco house with green trim and taught me how to make Marinara, Pasta and a whole bunch of other Italian classics when I was still living at home, with my folks…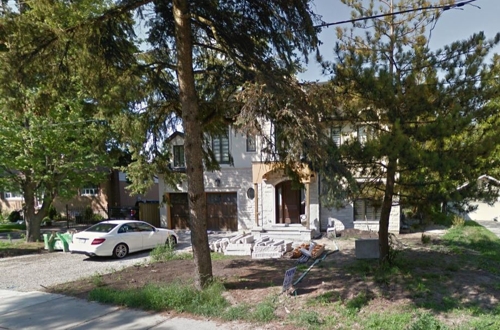 Alas! The little house across the street where I learned to cook Italian is gone.
It's being replaced by a mansion three times its size. The old street
just won't be the same. I think I'm going to cry…

The Indovinas baby-sat me a lot when I was really little. They had two kids of their own just about my age and we all played together daily. Thing was, I went to the Public School and her kids went to Catholic School. I got home most weekday afternoons at least an hour before they did, because they had their religious education classes after regular class.
Anyway, I used to arrive at Mrs. Indovina's door just as she was starting supper. And I learned at her knee, just her and me, about Italian cookery.
Just one problem…
Mrs. Indovina was Irish! Her given name was Fiona. Everyone called Fonny. Her match with an Italian guy was a good one, though. They were both devoutly Catholic and had no differences over religion. Or a good party, when it came to that! But, when she married Lorenzo, her mother-in-law and sisters-n-law descended upon her with a crash course in Mediterranean cuisine. She learned fast and she learned well. Wives of Italian men in that day had two primary responsibilities: looking after their kids and looking after their men.
And 'looking after' your man meant, in large part, making his food the way his mama did.
Back in that day…
No, I won't say how far back or in what day, exactly. But I will offer that, when I learned to cook Italian, there was no International aisle in the grocery stores. No Italian specialties to speak of, except dry Spaghetti and canned Tomato Sauce. The Indovinas went every week to Little Italy at Bloor and Bathhurst in downtown Toronto for their dietary necessities..
There were, also, no food processors or blenders or stand mixers. The KitchenAid multi-purpose machine many of us take for granted today was unknown to home cooks back when. They got along with hand mixers and their bare hands. And got along pretty well, too!
So, I learned to make every-day staples such as flat Pasta, Ravioli and Gnocchi the traditional way..
I learned how to make real Marinara, also known as Sunday Red Sauce and, in some Italian communities, as Red Gravy. It's an all-day process that starts before early mass with roasting beef bones and ends late in the afternoon, after hours of simmering, with the final tasting and seasoning adjustment, a ritual presided over by the senior mama present.
I also learned about exotic (then) ingredients like Olives, Pepperoni, Prosciutto, Red Pepper Flakes, Basil and Oregano – all Italian staples but virtually unknown in WASP kitchens like my mom's.
And let's not forget Ciabatta, Focaccia and Pizza Dough.
Even now, I rely on Signora Indovina's go-to recipes, as learned from her mother-in-law, for my Italian meals. And I always have Olive Oil in my pantry. Once you start cooking with it, you can't get along without it!
One more thing…
Mrs. Indovina passed away many years ago. The clipping of her obit from the Toronto Star is dry and yellowed. But she taught me two more things that have been indispensable in my life since I cooked with her in the house across the street.
One is to take things philosophically. If the recipe doesn't turn out, start again. But don't tell anybody about your failures. That way, she used to say with a wink, you'll be able to maintain your reputation as a kitchen genius.
The other thing was to have fun in the kitchen. She always seemed to. Her unique sense of culinary humour was even reflected in the inscription she choose for her epitaph: "Eat dessert first! You never know when you're going to die."
Ciao!
~ Maggie J.