Time for another snapshot from the Harris Poll on Thanksgiving Dinner, commissioned by Instacart. Today, an angle that I've never really explored before. The survey asked Americans about their least favourite Thanksgiving sides…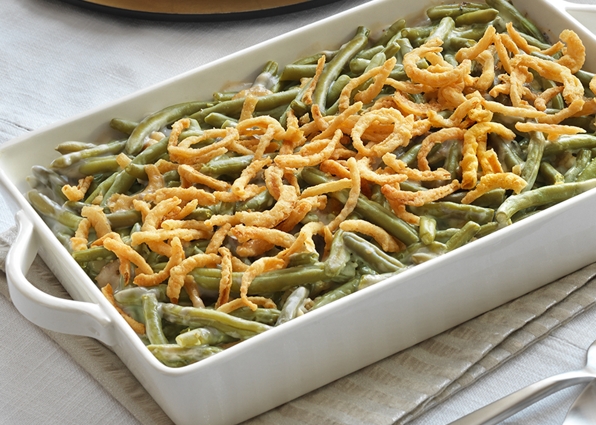 Green Bean Casserole: Second only to Candied Yams on
the Harris Poll Worst Thanksgiving Sides list…
The bad, the worse and the ugly…
Everbody has their favourite Turkey Feast sides. And they're always happy to tell you what they are. But what about the least-fave dishes that show up on the Thanksgiving dinner table?
The Harris Poll dared to ask the previously avoided question… Thus, the 'official' list of Worst Thanksgiving Sides, ranked in order of the numbers of folks who hate them:
Candied Yams: 27 percent
Green Bean casserole: 25 percent
Cranberry Sauce: 24 percent
Sweet Potato casserole: 21 percent
Stuffing: 12 percent
Salad: 12 percent
Mashed Potatoes: 8 percent
Dinner Rolls: 7 percent
Yams / Sweet Potatoes
According to the poll, some folks don't know the difference. But those who do – hate Yams more. Canned Candied Yams are a staple on some family Turkey Feast tables. And those folks never have them at any other time. No big surprise, there – given the poll results.
I like baked Sweet Potatoes, slathered with butter and sour cream. But that's a world away from the casseroles the poll talked about.
Green Bean casserole
My least fave festive side. For me, the best part is the French's Crispy Onion strips on top. Sad, but true. Also sad, a Green Bean casserole is the number-one side guests will volunteer to contribute to the big feast. So you kind of have to serve it if you don't want to lose friends and alienate family members.
Fortunately, leftover Green Bean casserole makes an interesting base for, or addition to a number of ad hoc dishes. Think: All sorts of Hashes, Turkey Tetrazzini, Turkey Pot Pie, Turkey Soup, Pork Chops with Mushroom and Green Bean Sauce. Want something more exotic? Try Indian Potato or Cauliflower Curry with green beans. Or how about Fettuccini Alfredo With Turkey and Green Beans?
Stuffing
I have to take strong exception, to the proclamation of the masses, on this one. I take a forkful of stuffing even before I taste anything else on my Festive Feast plate. It's a 'gotta-have' for me, and has always been for my family – both Mom's and Dad's sides. Don't bother trying to convince me otherwise.
I suspect that most folks who demonize Stuffing have never had GOOD stuffing. I that's you, I implore you to try my go-to stuffing recipe, adapted from my Mom's and her Mom's…
Mashed Potatoes
I feel they're a staple of any Turkey Feast menu. I guess that's because my roots are steadfastly British. And they've always been avidly spooned onto of diners at my big holiday dinners. But I have, since the millennium, started switching out mashed Potatoes in favour of Baked and Scalloped. Depending on the audience I'm cooking for, of course. If I'm feeding only folks my age or older, I make sure the Potatoes are mashed – according to my Mom's recipe.
Salad
It's superfluous, in my book. There are always other great veggie dishes on my festive table. I lean towards steamed Broccoli with Cheddar Cheese Sauce (or Gravy), and pan-fried or oven-baked Brussels Sprouts dripping Butter as 'green' sides. They're both really healthy and folks love them.
No Holiday Feast menu of mine fails to include buttery Baby Carrots.
And I love Grilled Asparagus. But be careful! I've learned the hard way it's best to ask your guests before hand if they like or loathe the stuff. It seems there's no middle ground! I have one old friend I've known since high school who claims his dinner can be ruined just by the sight of Asparagus on the table!
Dinner Rolls
Nope. Like Salad, rolls, too, are superfluous. They just take up tummy room you could fill with other great dishes…
Go boldly…
And serve whatever sides you like for Thanksgiving. But be careful to consider the preferences of your target dining audience!
~ Maggie J.