I've been getting a steady stream of requests for different 'classic' favourite festive recipes since I shared my perfect Pumpkin Pie on this blog at Canadian Thanksgiving. We've covered two different and yummy Cranberry condiments and, now, we're going to make 'Mom's Mashed Potatoes'…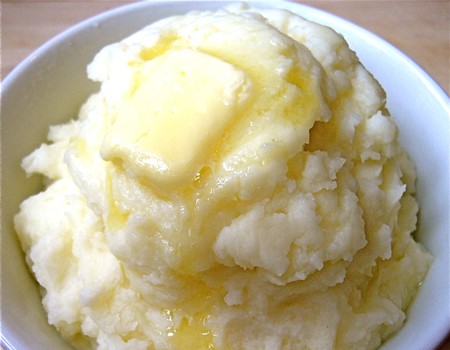 This one is really very easy – if you don't screw up on the fundamentals…
Fundamental No. 1
You must use the right kind of Potato for good Mashed Spuds like Mom used to make. You can use an all-purpose White Potato or a Russet (sometimes called a Baker or Idaho Baker). But you can't make good Mashed Potatoes with a hard boiling spud, like a Yukon Gold or a red Potato. They're great for recipes where you want the potato to stay together and maintain its natural shape (or the shape you cut it into), but lousy for mashed. Because, if you cook them long enough to make them mashable, you'll cook all the flavour out of them and they'll probably still be lumpy, no matter what you do them.
Fundamental No. 2
Don't overcook your spuds. If you use the right kind of spuds, you can preserve the natural flavour and texture of the Potato without long, tortuous boiling or steaming. And the right kind of spud will mash up light, fluffy and smooth.
Fundamental No. 3
Cut your spuds in pieces approximately the same size. That way. they'll cook at the same speed and all pieces will be ready at the same time. No more large, hard, undercooked pieces which result in lumps.
Now… let's go!
Peel and rinse your potatoes in cold water. Cut into same-sized pieces to ensure even cooking. If you boil 'em, male sure you salt the water well.Smaller pieces will cook faster, if you're short of time. Steam or boil until fork-tender, with a lid on the pot! Drain the Potatoes and allow them to steam dry in the pot, off the heat. Mash the spuds roughly. Add a nice Tablespoon of Butter and 1/4 cup Milk or Cream for each cup of Mashed Potato. Mash again – or, I should say, whip – with a whisk or a large fork, until Potatoes are smooth and creamy. If your mom likes drier Mashed Potatoes, leave out the Milk/Cream.
A contemporary variation…
It's come into vogue recently to boil or steam your Potatoes with the skins on, then mash them with the skins and leave the mixture 'rustic' – that is, rough-textured and unadulterated. Sometimes, cooks simply take the whole cooked potatoes with the skins on and crush them with a spatula, then dress with Salt, Pepper and Butter. This is what most people refer to as 'Smashed' potatoes.
A word about Salt
Add extra salt near the end of preparation only if you've steamed the spuds rather than boiling them in Salted water. There's enough extra Salt in the Butter to thoroughly season the mash, if you use Butter. And be sure to add just a pinch of white pepper to help bring out the lovely, nutty, earthy, natural Potato flavours…
Enjoy!
~ Maggie J.