It's mid week – Hump Day – and what better time for an infusion of fun to help get us to the weekend without going barmy? Amateur online humourists had a field day (pun intended) when pictures surfaced yesterday on Yahoo! News of a giant celery truck rollover…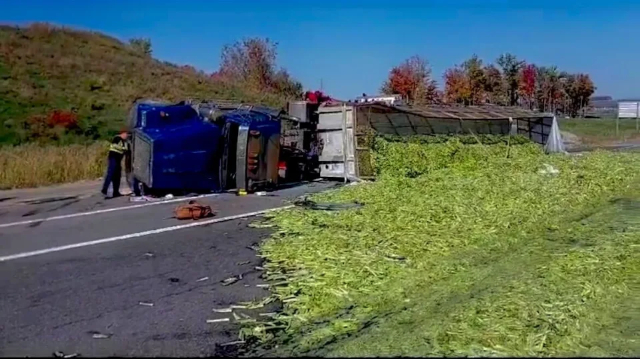 A giant trailer load of celery overturned on a Toronto-area highway yesterday.
Online funsters took up the challenge to make a meme gleefully!
A 'gimme', if ever…
Police post followers on X (formerly Twitter) had a proverbial field day yesterday when the Aurora detachment of the Ontario Provincial Police posted a major road closure. A huge hopper truck brim-full of celery had turned over on highway 400 north of Toronto, blocking all lanes southbound.
Within minutes, self-styled comedians started posting meme-i-fications on the theme.
Menu of accompaniments…
The police information officer posted: "So much celery! #AuroraOPP working hard to keep motorists safe Hwy 400 S/B. Please be patient. #Celery"
The resulting avalanche of responses interestingly centred on what folks love to eat with celery…
@henderswine responded: "And here I am eating fatso salted caramel peanut butter with a spoon … On my way. I got plenty…"
@tomahawk1234 quipped: "I'm on my way with my bottle of cheese whiz."
@ardalis suggested: "Just need another truck full of ranch dressing…"
@smcadman rejoiced: "EVERYONE! Partay with caesars on 400. Bring enough Clamato and Tabasco for the boys in blue, too. But not for [Premier Doug] Ford. He underspent by billions on them."
…Devolved into fiesta of puns
@therealBD594 reported: "That truck was following me too close. I think I was being stalked."
@adairingthought recommended: "They need to acceleryrate the clean up."
A few serious observations
@MS_KBlanchette pleaded: "Given deep budget cuts this year, our school's 3 classes of Food & Nutrition this semester could desperately use this to practice knife cuts on."
@stgilmore66 made perhaps the best suggestion: "Donate the good stuff too zoos…"
Don't forget the animals!
Yes, Gilmore! Great idea. Stories from the pet- and animal-food sphere regularly make the general food newswires. We've featured them in this space more than once.
One thing we hear less about is the predicament Zoos and animal preserves are in. They're facing the same sky-rocketing food prices we humans are. The animals eat pretty much the same stuff we do – heavy on the green, leafy veggies. And celery is apparently a favourite of critters from gorillas to geckos.
Yes! Salvage that spilled celery and send it to zoos and wildlife preserves! And set a little aside for the kids at culinary school to practice their knife cuts on…
~ Maggie J.