Subway was taken to task by the Advertising Standards Council of Canada this past year for its commercials showing huge, overstuffed Lobster Subs. The trouble was, the real deal at the sandwich counter came up severely lacking in substance, by comparison. Bye-bye commercials!
Here's a still pic from one of those Subway spots: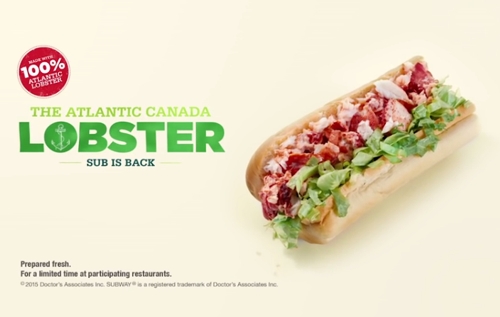 And here's a customer's pic of what you actually get in the store:
This was my first clue that Subway was cutting back on its sandwich stuffings. I'd had a Subway Lobster Sub before, but it was much fatter and tastier than the last one I had – which featured a meagre sliver of Lobster like the servings shown in the customer photo, above. First, there was that thing where people complained that their Footlong Subway subs weren't a full foot long. Then, they started slicing their meats, cheese and other ingredients much thinner than they used to. Same sandwich description in terms of the number of slices you get, but much less product on the bun. Who did they think they were fooling?
I don't always get a Sub. but when I do, I go to Quizno's, now. Mr. Sub is also out there, although his outlets are more numerous in some parts of the land than others.
Happy Holidays!
~ Maggie J.