We all know that the sensible thing to do at Christmas would be to get a Turkey the right size for the crowd we're feeding. But we all seem to end up with mounds of leftovers, anyway. In my ongoing quest to introduce new 'Turkey Encore' recipe ideas, I offer the following recently-tested options…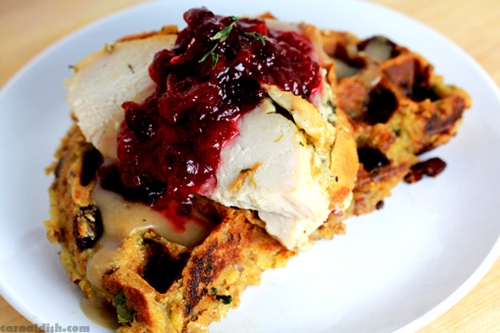 Turkey and Stuffing Waffles: I'm making this for Sunday Dinner tonight.
Turkey and Waffles
It's a little like that American regional icon, Chicken and Waffles, except the Turkey is simply sliced (or pulled) rather than breaded and fried and the Gravy is your leftover Turkey stuff, not Sausage or Redeye.
The real innovation is the Waffle. After seeing this done on one of those TV restaurant review road shows, I decided to try it. And it works like a charm! Just take a 4 oz. / 10 ml scoop of leftover stuffing and plunk it down on a pre-heated Waffle iron. If you have a round iron, all the better. I prefer the raggedy-round shape it produces. Cook as you would a regular waffle and place on a large plate. Top with the Turkey and re-heated Gravy. Cranberry Sauce or Relish is fantastic on the side!
Turkey Meatballs or Kofta
There's a rule among professional cooks that you never make Meatballs, Patties or other such products out of previously-cooked meats. They'll be dry and tough. Well, there are ways of getting around that. I like to finely mince leftover Turkey or run it through the meat grinder attachment on my stand mixer, then mix it up with a little leftover Mashed Potato for moisture and a beaten Egg as binder. From there, you can go anywhere you want with it, flavour-wise: Swedish or Italian Meatballs, Middle Eastern Kofta, BBQ Slider Patties – whatever!
Turkey Tourtiére
Change up the Quebecois Classic, Tourtiére, with leftover Turkey! This idea popped up in a recent online post by another food blogger, but my version is entirely my own.
The basic preparation of the filling follows quite closely that for the Meatballs, above.
In a large pan, lightly sauté a whole medium diced Onion and a couple of cloves of Garlic, finely minced. Add a couple of big spoonfuls of leftover Mashed Potatoes and mix well. Then add two tsp. / 10 ml of ground Nutmeg and 1.4 tsp / 2-3 ml of ground Cloves (or more to taste). Finally, mix in about 3 cups / 750 ml of minced or ground leftover Turkey meat. Make sure to use equal parts of dark and white meat, to optimize both the flavour and colour!
To assemble, prepare a standard Short Pie Shell with top crust. Fill with the Tourtière filling and crimp the top Crust to seal. Leave a vent hole in the centre of the top to prevent blow-outs! Bake at 425 F for the first 15 minutes then turn the heat down to 350 F and bake for another 30-40 min.
Or… Do what I've been doing for the past few years: Roll up like a strudel in a big sheet of Puff Pastry, sealing the edges with a brush of beaten egg. Remember to make slits or small holes in the top of the roll to vent the inevitable steam. Bake for 45 min. at 350 F on a regular baking sheet lined with parchment paper.
This is a great way to do Tourtiére. You can cut it in squares to serve as finger food or hors d'ouuvres, or in slices to serve at the table. Everybody loves it!
And that's just the beginning…
Let your imagination go wild and try your own creative ideas for 'Turkey Encore'! And be sure to share them with us…
~ Maggie J.