Ah, Montreal… Once called the Paris of the New World for its sophistication, old world charm and a restaurant scene that spanned the globe's greatest cuisines. But in 1947, the city banned street food. They said for sanitation reasons. But others said sit-down restos feared they'd lose business…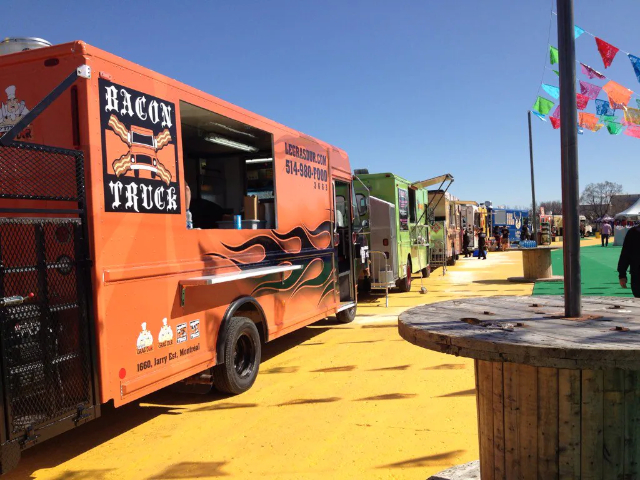 Montréal Food Trucks lined up at the Olympic Stadium for Food Truck Friday Night, 2016.
The ban was lifted, finally, in 2013, ending what one Montreal food journalist called, "a 66-year drought."
But there are some conditions that food truck and stall operators in other cities don't have to meet. For instance, any new street food vending operation must pass the scrutiny of a city committee, which will rule on it's appropriateness focusing on quality and originality. Street vendors must also have brick-and-mortar kitchens or restaurants in which to prepare their food. But it only stands to reason that they must also have some on-site cooking and/or reheating facilities to meet basic food safety and handling regulations. And I would hope that the poutine guys, for example, could still make their fries to order, hot and fresh, rather than microwaving or oven-reheating pre-cooked ones.
What's on the menu?
A scan of the top websites surveying Montreal street food shows a wide array of cuisines and mash-ups available today. But some of the most popular foods are traditionally Québecois and classically Montréal.
Poutine: Of course. And what began as a simple finger-licking plate of fries doused in good old Brown Diner Gravy and topped with fresh cheddar cheese curds has evolved into a gourmet exercise in mix-and-match cuisine (see photo, top of page). If you want a certain topping, you can probably get it. Somewhere in the city.
Steamies and Toasties: Two versions of the famous Montréal Hot Dog. The Steamie (below, left) features a plump steamed dog on a steamed, side-loading bun, topped with lots of mustard, chopped onions, relish, and coleslaw.
Its cousin, the Toastie (above, right), (also known in some quarters as a 'Michigan') serves up a steamed dog on a toasted, top-loading bun slathered in a Chili-like red sauce.
Grilled Cheese: The Montreal version of the classic. You can get almost any kind of meats or veggies you like in the middle – even Mac and Cheese. The outside surfaces are grilled to a perfect golden brown using lots of butter on medium heat. Classic grab-and-go rib-sticking goodness.
Smoked Meat Sandwich: Synonymous with Montréal, Smoked Meat is a cousin to both Pastrami and Corned beef – but fans say it's much more flavourful and has more all-round character than its Romanian and Irish relations.
First cured with pungent spices, then smoked and finally steamed, it's sliced thick and piled on light rye bread that's been glazed with old fashioned yellow mustard.
Montréal Bagels: We've delved into the origins and provenance of this unique treat before. Cousin to the New York Bagel, second cousin twice removed from the Soft Pretzel. Eat it with a schmear of cream cheese and a flutter of thin-sliced Smoked Salmon. Or make a major sandwich of it. Bagels are available everywhere in Montréal!
Phoritto: A representative member of the new generation of Montréal street foods. This Tex-Mex/Asian mash-up turns a slurp-and-go standard into a new grab-and-go tradition!
It's basically the Vietnamese street food staple Pho Noodles wrapped up in a tortilla as a sort of burrito.
As the Phoritto above amply demonstrates…
There's a lot more to Montreal street food than you might imagine. You'll find culinary mash-ups and marriages there you never saw before – or even dreamed of. Make Montréal a street food holiday destination…
~ Maggie J.