It's time to enjoy those fleeting few weeks in late June and early July when Fresh Local Strawberries are available in abundance all over Eastern Canada and the U.S Northeast! Strawberries were late this year, owing to a long, cool Spring. But they're here, now, and the pick-your-own patches are operating at full capacity!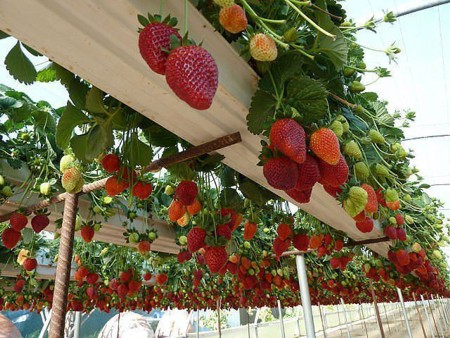 What a great Idea! Strawberry plants in raised boxes with drip irrigation hoses.
No dirt, no straw, no stooping to pick 'em! Must work really well with
window boxes and balcony planters, too!
I have several go-to recipes for Strawberries – some for consumption now and others to enjoy year-round. I like to organize them under three general headings…
The Freezer
If you have enough good, ripe berries at a good price or – lucky you! – have your own Strawberry patch, you can easily freeze hulled, halved berries for use anytime by simply spreading them on a baking tray on a sheet of parchment or wax paper and sprinkling them lightly with sugar. Arrange them in a single layer. Cover the tray tightly with plastic wrap and let the berries freeze like that, individually. They'll be much easier to portion out as you need them later. This is what we call, in the Foodservice Biz, 'IQF', or Individually Quick Frozen. When they're frozen solid, pour them into zipper type freezer bags and stick those in the deep freeze for the long run.
Remember: Strawberry and Rhubarb seasons overlap conveniently. You can freeze Rhubarb, cut into half-inch (1.5 cm) pieces in exactly the same way and take them out when you thaw Strawberries to make that classic combo, Strawberry-Rhubarb Pie! (See below…)
Freezer Strawberry Jam is a perennial favourite. Recipes abound on the Big Wide Web and you probably have a family fave handed down from grandma if you are at all inclined to make jam. Nuff said. Quick and simple!
The Stovetop
Okay… We'll start with Classic Strawberry Jam. Just wash, hull and half 2 cups of berries, place them in a deep saucepan, add half a cup of sugar or 1/4 cup if Maple Syrup, and top with 1/4 cup of water. The water will keep the mixture from burning until the berry juice starts to come out of the fruit. Cook over Medium heat stirring often so the mixture doesn't burn. When the Jam thickens to the desired consistency, This simple recipe scales up or down perfectly to suit your wishes or your harvest. You can store the finished jam in sterilized preserving jars like grandma did, or just jar it in mason jars hot and put the lid right on. A vacuum seal with form when the Jam cools and you can keep the stuff in the bottom of a fridge for months.
Stewed Strawberry Compote is one of my all-time favourites over over Ice Cream, on a piece of Pound Cake or Shortcake, or just in a bowl topped with fresh Whipped Cream! And it's really easy. Just follow the procedure for Jam (above) but ass a little more water so that the mixture forms a syrup rather than attaining a thick jammy texture. Don't over-cook! Try adding Rhubarb or even some really ripe, fresh Cranberries for extra zing and depth of flavour. If adding either of those two partner fruits, be sure to add more sugar to taste. I like to put in a pinch or two of Cinnamon, Cloves or Allspice near the end of cooking. Adds a whole new flavour dimension! Experiment…
Hint: Try Jam or Compote as a filling between layers of Chocolate Cake!
The Oven
Strawberry / Strawberry-Rhubarb Pie is a summer staple, especially for outdoor meals and family get-togethers. You can go about this one two ways: Either make a fresh-fruit pie (with or without top crust; lattice crust is classic) or pre-bake your crust and make a separate filling using berry juice thickened with Corn Starch. This is very similar to how you make a Lemon, Lime or Chocolate filled pie, but you'll want lots of chunks of berries in it. You'll get a pleasant looking glazed finish on the top, so don't hide it under a top crust! Be sure to refresh yourself on my Fool-proof Pie Crust recipe if you don't already have a fave pastry of your own!
A Cobbler, Crisp or Crumble is always an option if following the fresh fruit pie method. Just place the filling in the appropriate baking dish and add the appropriate topping. Quick and easy! No pastry involved!
If you are a Muffin person, you'll love adding a generous amount of Strawberry compote or, simply, well-sugared fresh berry halves to your next batch, whatever the base flavour.
Just the beginning…
These basic recipes and procedures are just the tip of the iceberg. Any of these dishes or preparations can serve as the jumping off point for any number of culinary creations. As always, the only limit is your imagination!
~ Maggie J.