File this one under 'Culinary Oddities'. A California winery that invented a process called 'Ocean Aging' has had it product confiscated and destroyed. The process takes advantage of optimal temperatures and ocean currents off Santa Barbara…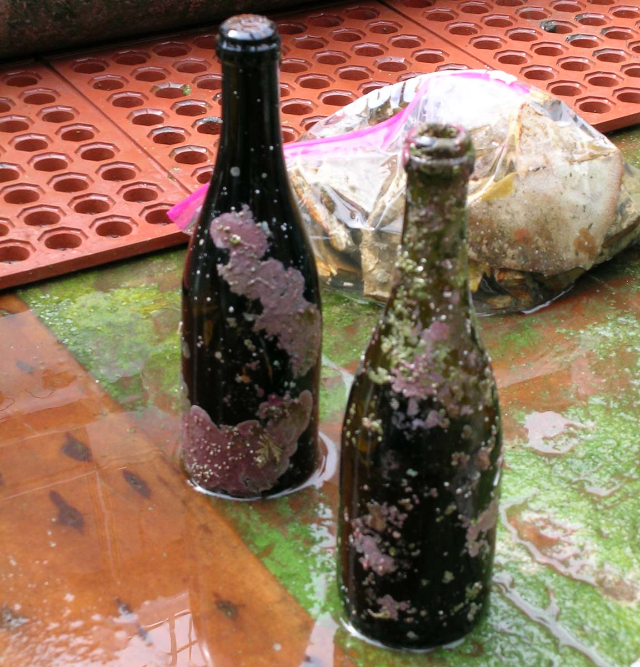 Ocean Fathoms bottles: Post-dunking. Note the encrustation of coral and other
growths. Also note the bottle front right. It appears its closure was
catastrophically breached during the course of its 'dive'…
According to a recent industry news story, Ocean Fathoms partners Emanuele Azzaretto, a diver, and Todd Hahn, a former talent agent, had been submerging crates of various wines since 2017. The wines, which normally sold for $20 to $50 a bottle, sold for as much as $500 per bottle after they had spent a year in the depths.
A high-profile taste test
The Los Angeles Times held a special Ocean Fathoms wine tasting. Tasters compared a standard vintage with the exact same product that had been immersed in the ocean for a year. Most of the wine aficionados recruited to take part unanimously declared the Ocean Aged vintage superior. "Broader palate," one expert declared. "Smoother," said another.
But one holdout insisted, "There's an elegance [to the ocean wine], but I don't think a regular consumer would notice an excessively huge difference."
"It's a bit gimmicky," another taster admitted.
But so enticing was the Ocean Fathoms concept that Azzaretto and Hahn claimed they were courting several famous wine and champagne brands as clients for the their 'service' when they were raided.
The problem? They had neglected to take care of some important paperwork.
Red tape
The Ocean Fathoms partners failed to obtain required permits from the California Coastal Commission or the U.S. Army Corps of Engineers before starting to sink their booze. It's not clear whether they would have received permits, anyway, owing to the nature of their enterprise.
It also turns out that Azzaretto and Hahn were collecting sales taxes from customers but never remitted them to the State of California.
Health and safety concerns
According to the Federal Food and Drug Administration (FDA) the Ocean Aged wine was considered, "adulterated, and not fit for human consumption, because it was submerged in the ocean and potentially contaminated."
Ocean Fathoms lost product that could have been worth up to $1 million, and were handed several fines.
Setting an example
It appears San Diego District Attorney John Savrnoch wanted to make an example of the Ocean Fathoms guys.
"This case involved individuals who operated with complete disregard for our consumer and environmental laws. The California Coastal Commission referred the case to our Consumer and Environmental Protection Unit and, because of the broad scope of violations, we investigated with the help of five state and local agencies."Savrnoch told reporters.
"The case highlights the importance of our office's relationship with outside agencies and it demonstrates our commitment to holding companies and individuals accountable for violating all types of consumer and environmental laws."
My take
I have to agree with the FDA, that the closures of the Ocean Aged bottles might have been breached while beneath the waves. That would render the contents contaminated. Far from paying 'up to $500' per bottle for the product, I would have stayed away from it as a possible health and safety risk.
On the other hand, I can understand why the Ocean Fathoms guys wanted to stay low, under the radar. If Azzaretto, the diver, had discovered the ideal aging spot while on a routine dive, as he reported, and word had got out… Anyone could have swum in and heisted their product anytime they wanted to.
Nevertheless, at this writing, the Ocean Fathoms guys are looking abroad for more friendly jurisdictions in which to do business.
But the odour of scam pervades the whole Ocean Fathoms thing – at least for me. The fact that they collected sales taxes from customers but never remitted the money to the state clearly indicates they wanted to conceal their operation from the authorities.
This one, I think, falls under the category of schemes described by the old saying: "If it sounds too good to be true, it probably is."
~ Maggie J.