Here's something that I've been making for years, when there's a threat of a crowd in the house for Breakfast: A mildly savoury Breakfast Bake. It's simple, quick and as fool-proof as I can make it, and I've yet to see a New Year's Eve reveler who couldn't enjoy it to the fullest the next morning…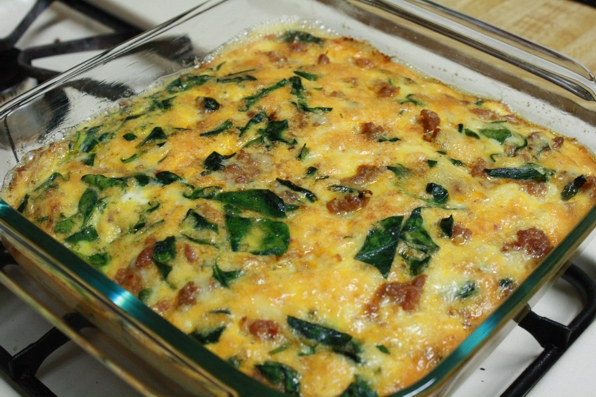 Here's a slight variation on m y fave recipe – adding crumbled Sausage Meat. Ham, Bacon
and other Breakfast-oriented Meats are also popular. But use up the last of
the Turkey today and have a Ham Bake Next weekend!
This dish is basically a savoury Bread Pudding with lots of yummy extras!
That means it's essentially a custard of Eggs and Cream poured over a big casserole full of Bread cubes. Use a Lasagna dish to bake this one or it will take all morning to cook through!
1 loaf of cheap, store-bought White Bread, cut into 3/4 in. / 2 cm cubes
6 Eggs, well-beaten
1/2 cup / 125 ml Cream – use only 18 per cent or higher Fat content Cream!
1 tsp. / 5 ml Salt
1 tsp. / 5 ml White Pepper
2 cups / 500 ml Leftover Christmas Turkey, shredded or cubed 1/2in. /1.5 cm
1/2 one large Red Bell Pepper, diced 1/2in. /1.5 cm
1/2 one large Green Bell Pepper, diced 1/2in. /1.5 cm
1 cup Cheddar, Swiss or Jack Cheese, grated coarse
1 large Onion, diced 1/2in. /1.5 cm
2 large cloves Garlic, peeled and minced, or pressed (or more to taste)
1 tsp. / 5 ml Ground Cumin
1 tsp. / 5 ml Ground Coriander
1 tsp. / 5 ml Rosemary
1 tsp. / 5 ml Sage
1 tsp. / 5 ml Ground Nutmeg
I know it looks like a lot of ingredients, but you'll be glad you made this! Mix up the Herbs and Spices the day before and store in a small plastic container. Dice the Veggies and Turkey late afternoon the day before and store in the fridge, in a tightly covered container.
Then… All you have to do is Mix up the Eggs, Cream, Herbs & Spices and Cheese the morning of service. Toss the Veggies and chicken to combine evenly and then add the Egg mixture and fold in carefully so as not to crush the bread cubes. make sure all the ingredients are evenly distributed throughout the casserole. I always let the casserole sit for 15 minutes or so to allow the Eggs to soak evenly into the other ingredients. Place in  pre-heat 350 F oven for at least 45 minutes, or until a toothpick comes out of the middle of the casserole clean. Start testing after 30 minutes and be careful  not to over-bake. Remember, this is a custard!
When done, remove from the oven and let stand to cool slightly and set before serving.
Variations are infinite!
You an actually put anything you want into this great, classic dish. Whatever Meats you like, leftover or fresh, Seafood, any Veggies you like that aren't too moist (i.e.- follow the rules for Quiche; squeeze your Spinach well before chopping!) And you can use any Herbs & Spices you want to employ. Just don't skip the Salt and Pepper!
Not just for Breakfast?
I've always thought of this dish as a Breakfast specialty. But, truth to tell, it can be made and enjoyed any time of the day. And I've never met anybody who didn't ask for seconds!
Now! Pour yourself another Mimosa and get crackin'!
~ Maggie J.