This unique style of eating is a cherished Portuguese and Spanish tradition – perhaps more an Atlantic phenomenon than Mediterranean. But its ingredients and preparation methods are distinctly rooted in The Med as are the cultural conventions that come along with it…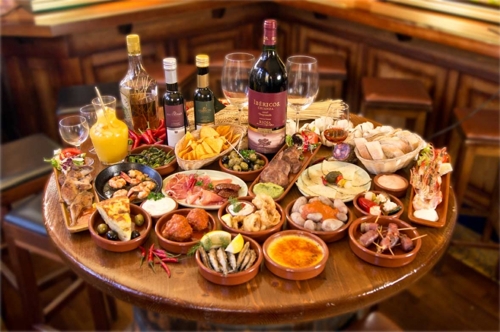 A beautiful, bounteous Tapas table at a typical Spanish neighbourhood Tapas Bar.
Tapas is more an art than a technique to real devotées. It is the art of small bites on small plates, coming along at a leisurely pace and complementing whatever you're drinking – from Fino Sherry off the ice to a Robust Red just out of the cellar.
Typical Tapas treats include Grilled Sardines; small Sausages or Sausage slices; Serrano Ham rolls, and Ham rolled around just about anything you can imagine; any of a vast array of other Charcuterie items; Deep Fried items of all kinds; small Meat Balls; Olives and Pickles; Fried Fish and Seafood bites (Shrimps are a favourite!) You name it! Wikipedia's comprehensive rundown of tapas dishes will boggle tour mind and send you running for the snacks!
Put these together with an array of Aiolis (flavoured mayonnaises) and Olive Oil-based dips and drizzles and you've got a feat that can keep you busy all night long. or at least until supper – which they don't sit down for until after 9 p.m., typically, in Spain – sometimes as late as midnight.
That's where Tapas comes in: Something to nibble while early-evening bar hopping ('Ir de tapas') after work. And, according to those in the know, work can end as early as 2 or 3 p.m. in Spain. Do the math: Tapas is not just a food tradition, but a major pastime in the region!
Try some traditional Tapas treats in place of your traditional finger foods (i.e.- ditch the Mini Quiche, Pigs in Blankets, Mini Egg Rolls, Mini Pizzas, Chicken Nuggets and other stuff you have heretofore relied upon) next time you host a game-day event or a cocktail soirée. Your guests will rave!
Coma!
~Maggie J.