Mediterranean staples have become favourite dishes for many of us across the Western World in the past couple of decades, as the cuisines of different cultures meld and fuse and react with one another. Take, for example, the case of the Middle Eastern classic, Tabbouleh Salad…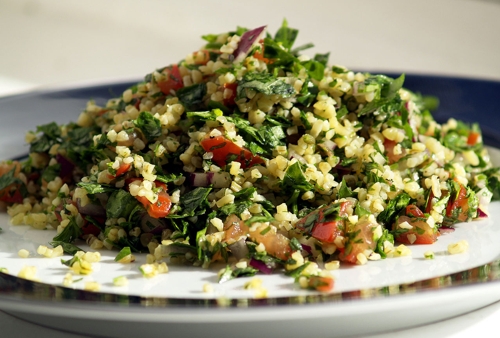 Classic Tabbouleh Salad – A great accompaniment to any meal that's crying out
for a salad. And try it as a topping anywhere you'd consider using Pesto!
Tabbouleh (pronounced: 'tah-BOO-lee' by at least two real, live Lebanese people of my acquaintance) is a simple salad of finely chopped Parsley, finely diced Tomatoes, minced Onion and Mint, with Lemon Juice, Salt, Garlic and Olive Oil. It's a natural to whip up in a food processor! but don't ever-process. You'll just get green mush!
Tabbouleh is a peasant dish and, therefore, has as many variations as any other dish that has evolved in myriad ways down generations of family cooks in millions of homes across the eastern Mediterranean region.
Variations include (and this is a biggie; considered essential by a majority of Middle Eastern cooks I've consulted) the addition of cooked Bulgur Wheat (sometimes called Cracked Wheat, or Wheat Berries, here in the West). As an aside, some swear by Couscous, rather than Bulgur…
While Parsley and Tomatoes (followed by the Bulgur) traditionally take precedence in terms of the relative volumes of the ingredients mentioned, amounts of other additions will depend entirely on your taste.
Experiment! make this classic your own!
~ Maggie J.