McDonald's, the biggest Burger Chain and the one that generally premieres new marketing tactics first, has announced it will start testing food delivery in Florida next month. This, not long after it unveiled plans to revamp it's McCafé concept and started to roll out ordering Kiosks and table service…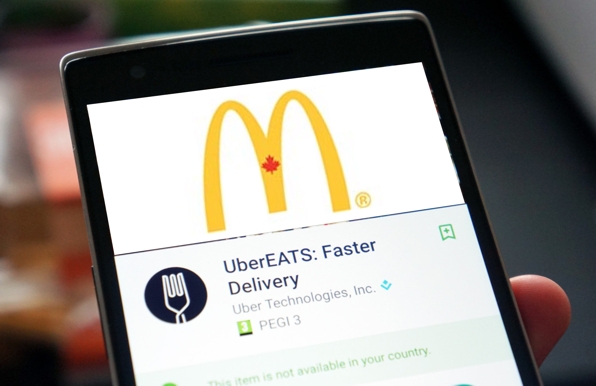 Coming soon to a phone/tablet/notebook/desktop near you…
Residents of seven central and southeast Florida cities in the Orlando, Tampa and Miami areas will be able to order McDonald's grub via the UBEReats system starting in January. Details of the scheme are scarce, but we assume that, if you're in the test service area, McDonald's will show up as an option in the scrolling menu if eateries on the UBEReats site and you can just go on from there to order and pay the UBEReats way.
You enter your address, including City, in a search box at the top of the UBEReats page and the site gives you a list of restaurants in your area that are enrolled in the delivery service. Click on the restaurant you want and a limited list of deliverable menu items is displayed. These items may not be exactly the same as those on the restaurant's regular menu. But close enough, we presume, to what you're used to.
The site claims that deliveries are typically fulfilled within 30 minutes. But the restaurant icons in the initial list all show more realistic time estimates, typically in the 30-45 minute range. That's not too bad. Prices may be a little higher than those on the regular in-restaurant menu, but that's probably to cover the cost of packaging the eats to go. They are also pre-tax and pre- the (C)$4.99 delivery fee. You pay with a credit card at a regular online ordering check-out screen.
The delivery fee may seem steep to some, but what would you tip the Pizza Driver who braved a snow storm on a -18 C / 0 F night to get your pie to your door still piping hot? I guess that depends on how grateful you are to not have to go get it yourself. But I think $5 is well within reason for the service.
Not big with the Chains, yet, but…
UBEReats is not big with the chain eateries at this time. But, with McD's trying it out, the other Burger Biggies may follow suit. It will be interesting to see how that opportunity shakes out. A situation could develop, sometime in the future, in which Burger outlets do as much o more business via delivery than they do in-store; like many Chinese Food shops and Pizzerias already do. What a financial boon to the proprietors! Maintain skeleton staff to handle your seating area and reduce the seating to a token 6-12 seats. Concentrate on pounding out the delivery orders and minimize overhead! Will the real McDonald's of the future look less like your living room and more like a drive-through?
Exciting times portend, for fast-food devotees!
~ Maggie J.