We'll start our safety and sanitation rounds with the surfaces you use most when preparing food – the counters, tables, islands and benches. Not to mention the back-splashes and cutting boards.
And, today only, for a limited time, we'll also throw in the kitchen sink – because it's you!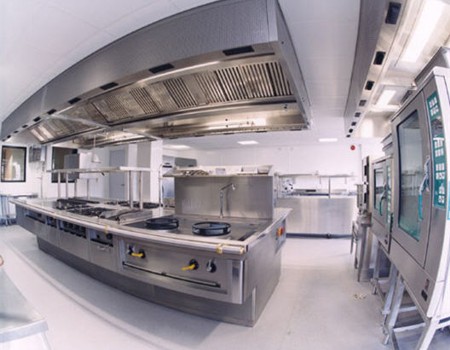 A very well-designed medium-sized catering/restaurant Kitchen. Twin large gas burners,
centre, for large stock pots and woks. Two convection ovens, right, with blue handles.
Multiple gas burners and grills, left rear. Oversized vent hoods over all, with
secondary ventilation over ovens. Not shown: Walk-in cooler, automated
dish washing system. Wow. If it wasn't all stainless steel,
it would be a nightmare to keep clean!
Your mission…
…And you'd better accept it – is to keep your own kitchen clean and safe. Fortunately, that task is much easier than you might first think.
A beautiful and very workable modern residential kitchen. Could even be a teaching
kitchen with that lovely island! I'd like to see a much larger, two-compartment sink
and a more robust range hood (for the six-burner gas cook top) I really like
the wall oven – no bending or awkward lifting! Wonder what kind
of fridge/freezer they'll install in the space at far right?
It all comes down to cultivating some good sanitation habits and adopting a routine for your cooking sessions. And observing a couple of cardinal rules:
Rule No. 1: Clean as you go!
Rule No. 2: It ain't over till the kitchen is clean!
Choosing counter tops
In our dream kitchen (pictured above) the counter tops are all made from solid marble – a great choice, because it's heat-resistant, hard to scratch and virtually impermeable to stains, chemicals and bacteria. And, therefore, it's easy to keep clean!
Many folks these days choose "cultured" marble, man-made ceramic/epoxy composites. They're cheaper than marble and almost as resilient. Not as heat-resistant, though.
Chances are, if you have a older kitchen, you have good old, inexpensive Formica (sheet plastic) glued to a particle board substrate. It's fine, as long as it doesn't crack or you don't drop something on it or place a hot pot fresh off the stove directly on it. Formica will invariably scratch, though, and scratches can harbour bacteria. Never cut or prepare food directly on a Formica surface.
Butcher block counter tops and cutting boards can be properly cleaned and sanitized easily, provided you do a couple of extra things regularly to keep their surfaces in good shape. (We'll get to that a little later.) When buying a butcher block counter top or cutting board, be sure to choose one that is at least a full inch thick and made from a close-grained wood such as oak, cherry, or maple. (For purposes of butcher block-making, poplar, birch and most fruit woods are not "hardwoods".) You can also look at those new laminated bamboo cutting boards. You may not get one that's a full inch thick, but they are fine-grained, very hard, and warp-resisant once properly finished.
Choosing cutting boards
Cutting boards come in a variety of materials. We've already covered butcher block.
You can get boards in marble or ceramic composite if you want. Marble is great for rolling pastry and baking. They're really expensive and very heavy to move around. If you really want one, don't get it at a Kitchen or restaurant supply store. Go to a marble counter top manufacturer and get him to square-up a suitable sized off-cut from a counter top job. The result might be a bit rough around the edges, but the price will be right.
Most restaurant and institutional kitchens use hard, opaque plastic cutting boards. They're very cut- and stain-resistant, dishwasher safe and not nearly as heavy or as expensive as stone. They're available in sizes from about one square foot to 18 in. x 24 in., or larger.
You'll see glass cutting boards in some ritzy cookware stores. Also hard, clear plastic (e.g.- Lucite polymer) boards. They're okay, but Lucite is lightweight and will slide around on you. And I don't want anything Glass in my kitchen. One broken glass object can contaminate any food nearby with flying glass shards. We never use anything glass in a foodservice kitchen.
Overall, I prefer the hard, opaque plastic boards. They don't slide around on you so much, they are easy to clean and sanitize, and they come in a variety of colours. That lets you keep a separate board for each kind of food – meat/protein, veggies, dairy, etc. which further reduces the chance of cross-contamination.
Cleaning hard-surface counter tops, back splashes and cutting boards
Institutional food safety experts recommend a three-step method for cleaning and sanitizing hard surfaces including stone, stainless steel, all hard plastics, and glass.
First, scrape or wipe off any physical food debris. Then, wash the surface with hot, soapy water on a cloth towel. Wipe off the soap with a clean towel. Finally, pray with a suitable disinfectant. In the Maggie J's kitchen, we use a commercial product made specifically for this purpose. You can use any household disinfectant spray that's safe for kitchen use. Use a paper towel to dry off any excess spray that doesn't evaporate immediately. This also ensures that the disinfectant reaches all parts of the surface.
The above cleaning routine is also highly recommended for the doors, trim and side panels of your kitchen appliances. Do them at least once a week, whether they look dirty, or not. Clean the door handles of the fridge, stove and microwave daily.
Cleaning butcher blocks
First, wipe off any loose food debris. Next, use a bench scraper (a must-have baking tool) to scrape down the surface, removing as much of the sticky debris as you can. Then wash down the surface and edges with warm soapy water to remove any food material that remains and open the pores of the wood. Then spray with a sanitizing (antibacterial) preparation and wipe dry with a single-use (paper) towel. Once or twice a year (depending on how intensively you use the block), take it down the basement or out to the garage and run an orbital (furniture) sander over it to remove scratches and stains.
Always finish cleaning or sanding your block by applying a light coat of vegetable oil, to seal the surface against the intrusion of bacteria and toxins and to make it more water resistant.
The kitchen sink
And, as promised a few specific words about the kitchen sink.
In the foodservice industry, we use a three-compartment manual ware-washing protocol.:Wash-Rinse-Sanitize. Followed by drip-dry on a clean drainboard. Wiping a clean, sanitized item with a cloth or paper towel can cross-contaminate it. Standing water in pots and pans can become a breeding ground for germs.
After all the manual washing up is done, remove any loose food debris or cleaning aids (scrubbers, cloths, etc.). Wash down the sides, rims and bottoms of your sink(s) and faucets with warm, soapy water. Rinse all surfaces with clean water. Sanitize all surfaces and the faucet handles with spray disinfectant. Pay particular attention to the handles. Everybody touches them! And who knows where some of those hands have been?
That's about it…
…For surface maintenance. Next time, we'll look at cleaning your appliances, large and small, and your kitchen "hand tools".
~ Maggie J.