This one is dear to my heart. I use the simple but delicious traditional recipe from my mother's high school Domestic Science text book. The book was published in 1936 and the recipes are as yummy today as they were then. And Mom says I make it even better than she does!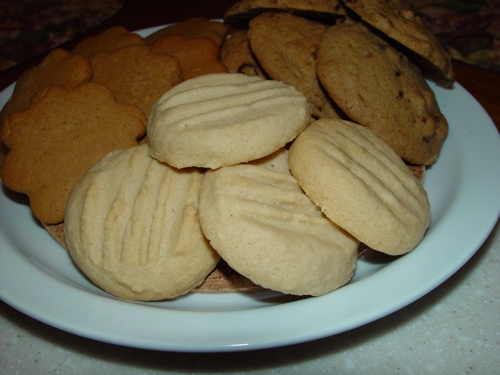 One reason for that is that I add a half teaspoonful of real Vanilla Extract. Her classic recipe uses only three ingredients: Flour, Brown Sugar and Butter. But I have another secret I'll only disclose after I give you the measures and procedure:
3 1/2 cups Flour
2 cups (1 lb. / 454 g) Softened Butter
1 cup packed Brown Sugar
1/2 teaspoon real Vanilla Extract
Cream together the Butter and Brown Sugar in a large bowl. I love my stand mixer for this application. You can use a hand mixer if you like and, if you don't have one of those, you can do it the old fashioned way – by hand, with a big wooden spoon.
Note: Make sure the Butter is just softened to room temperature, not melted. This will effect the texture of the cookies!
Add the Flour in several additions, mixing on low speed and scraping down the sides of the mixing bowl with a spatula between additions. The Batter should be smooth and thick.
Drop in rounded teaspoonfuls onto a baking sheet lined with parchment paper spacing them about 2 in. (5 cm) apart. Then, use a regular dinner fork dipped in warm Water to squash each blob down to a thickness of about 1/2 in. (1.5 cm). This is the traditional method my Mom and her Mom used to ensure the cookies bake evenly.
Give them about 10 to 12 minutes in a 325 F oven and remove as soon as they are done. These cookies are just not the same if they're baked too long!
Let them cool completely before trying to move them or they'll beak up on you. Store in a tight-lidded container in a cool place for up to three weeks.
Oh, yeah…
That other secret I mentioned earlier?
I use Cake and Pastry Flour rather than All-purpose, which all the recipe book recipes call for. Cake and Pastry  makes a much lighter, shorter cookie and you get more rise out of your Cookies and Cakes!
Happy Holidays!
~ Maggie J.