We've got Pizza and Nacho deals galore this week (modestly 'galore', anyway), but it's really summer Beverage specials that take the spotlight, with SONIC, Dunkin's and Baskin Robbins all chiming in. And don't forget the new Miller Beer 'Shosie'!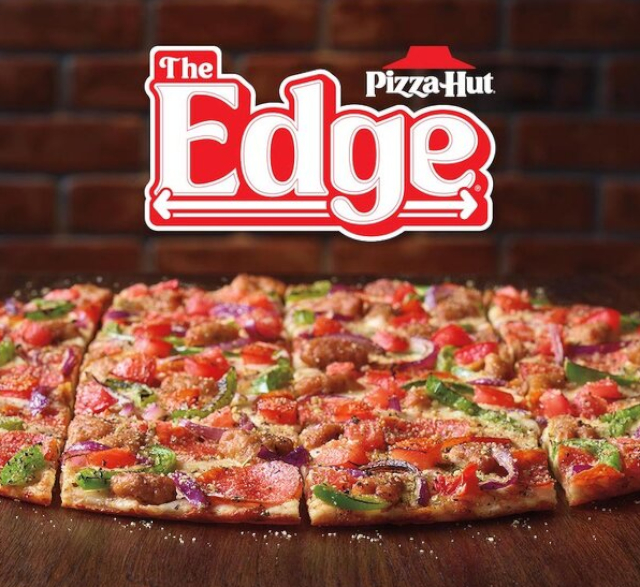 The Edge: dressed right out to the edge so you'll get a delicious
medley of your fave toppings in every last bite.
Pizza Hut once again goes to The Edge
The Hut is bringing back The Edge Pizza for summer. Not seen since 1997, The Edge features pies dressed right out to the edge so you'll get a delicious medley of your fave toppings in every last bite. The Edge is available in the following variations: The Ultimate; The Carnivore; The Vegetarian; and the Pepperoni Lover's. We said summer: The Hut officially says 'for a limited time, only'.
Little Caesar's stuffs you for summer
Actually, they're stuffing their crusts – some of them, at least – at participating locations, for a limited time only. For $10 you get an ExtraMostBestest pepperoni pizza whose crust is stuffed with Mozzarella Cheese. Order anytime; but it's 'Hot n' Ready' between 4 and 8 pm daily. Ask abut the Meal Deal…
Taco Bell brings back the $5 Grande Nachos Box
The deal includes a big box of Grande Nachos and a large fountain drink. Grande Nachos are Truly a big deal, topped with seasoned beef, refried beans, sour cream, nacho cheese sauce, 3-cheese blend, guacamole, and diced tomatoes.
Great for sharing, or hogging if you have a really big appetite!
SONIC introduces Bursting Bubbles bevs for summer
Bursting Bubbles are essentially popping Boba balls filled with something SONIC describes as 'sweet'. They come in new Blue Burst Slush and Cherry Burst Slush, along with Blue Burst, and Cherry Burst soda drinks. Bursting Bubbles can be added to any SONIC Slush or fountain drink now through August 1.
Dunkin's adds new Lemonade Refreshers…
Refreshers are zippy beverages featuring a blend of DD's new lemonade, flavored fruit concentrate, and B vitamins. Yes, B vitamins… Anyway, Refrshers come in  three flavours: Strawberry-flavored lemonade; Peach-flavored lemonade; and Blueberry-flavored lemonade. And yopu can norder the new Lemonade straight up, if you so desire.
… And rolls out new Doughnuts
DD is offering pretty pink Berry Powder Donuts and Munchkins Donut Holes for summer, too. They're dredged in a new Berry-flavoured powder rather than the usual plain powdered sugar. All the DD summer treats are available for a limited time only, of course.
Baskin Robbins out to Slime you!
BR rollos – or should I say – oozes – out Slime as its headline summer garnish for scoops and shakes. Sourberry Slime joins Summertime Lime, not only in rhyme, but as the Flavour of the Month.
The Slime is green, transparent, gooey and – we assume – sour. You can request it as an addition to any scoop or shake, or take home a squeeze bottle for all your domestic Sliming needs.
Novelty Alert: Miller Beer walks you through Dad's Day
Stumped (as usual) for what to get Dad for Father's Day? Miller Beer has a new novelty beer cozy which will knock the socks off any Dad (see photo, top of page). It's the result of a collab with New Balance sport shoes, and it looks just like a pair of New Balance show heels joined in a love embrace. Construction of the cozy is authentic right down to the non-slip rubber treat base. One catch: You must enter a contest to WIN a 'Shosie' cozy. Visit visit TheShoezie.com on Father's Day, June 20 at 9am CST to enter. Right now, you can view the contest rules at this address. (Must be legal drinking age to enter.).
And that's the skinny…
… On what's going to be making some of us a little fatter over the coming days and weeks. See you back here in 7 for another edition of Fast Food Week!
~ Maggie J.