Even as the weather grows cooler with the onset of Fall, and the world struggles with re-opening the Schools, the Fast Food Week top menu additions and announcements cavalcade still overflows with hand-held treats and Family Pack deals designed to facilitate the lock down, stay home lifestyle…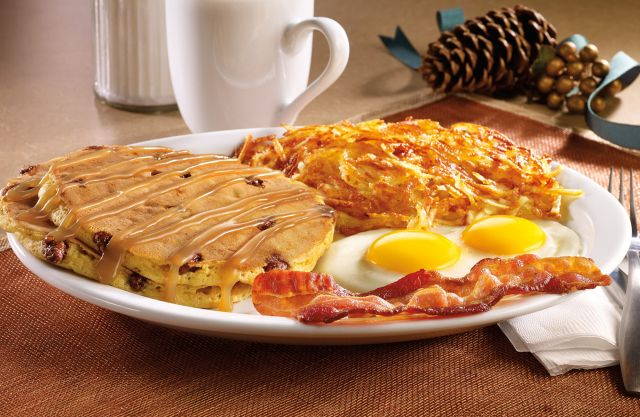 The classic Denny's Slam – with limited-time special Pumpkin Pecan Pancakes…
Buffalo Wild Wings débuts Spicy Orange
BWW responds to customer demand with new Spicy Orange Wings – featuring flavours of Citrus, Orange and Cayenne Pepper. There are also new Pizza, Lemon Pepper, and Carolina Reaper (hottest of all the commercially used Hot Chili Peppers) dredging sauces. Al these new menu additions appear to be permanent additions with no cut-off dates mentioned. All new flavours are also available with BWW Regular, Boneless and Cauliflower Wings.
Denny's Updates Family Packs…
A popular choice during the COVID-19 take-out and delivery 'era', Denny's is expanding and changing up its Family Pack specials adding: a Fish & Chips Pack; a Grand Slam Pack; a Lumberjack Slam Pack; a Cheeseburger Pack; a Premium Chicken Tenders Pack; and a Breakfast & Cheeseburger Combo Pack. Details in store and online.
… Dabbles in Pumpkin Pie Spices
Denny's is adding new Pumpkin Pecan Pancakes embedded with Pecans and drizzled with Pecan Sauce. They can be ordered on their own or as an upgrade to regular Buttermilk Pancakes in any meal platter. Apropos of which, the Super Slam Breakfast is back for a limited time featuring Pumpkin or regular Pancakes, two Eggs, two strips of Bacon, two sausage links, and Hash browns.
Dairy Queen floats new Shake, Blizzard
The Pumpkin Cookie Butter Shake starts with a blend of Cookie Butter, Pumpkin Flavour, Milk, and Vanilla Soft Serve, and tops it with Whipped Topping and a dusting of Powdered Nutmeg. The Caramel Apple Blizzard is the Blizzard of the Month for September 2020, and features a base of Apple Topping, Pie Pieces, and Caramel-coated Truffles blended into Vanilla Soft Serve, and crowns it with Whipped Topping. Check out the entire Fall Blizzard Menu in store or at the DQ website.
Chick-Fil-A adds new Brownie…
The new Chocolate Fudge Brownies are studded with Fudge chunks and come individually wrapped. Available as one-offs or by the 'tray'. Knowing that everybody loves a lovely, chewy Brownie, CFA has foregone the test marketing on this one and bringing it directly to the permanent menu.
… Offers new Coffee options
CFA is also following other major Fast Food chains, adding a new premium hot Coffee Blend to its menu, plus a seasonal Mocha Creme Cold Brew coffee as a limited-time special. The new Hot Coffee Blend supports the THRIVE Coffee Farmers fair-trade and Sustainable Coffee initiative in Central and South America.
Pringles rolls out new New Rick and Morty Chips
Pringles ran a special collab with Rick and Morty to promo the immortal Pickle Rick episode of the wacky Adult Swim Network animated hit. Now, they're bringing back Pickle Rick, plus two new R&M flavours: Honey Mustard Mort and Look At Me! Cheddar & Sour Cream. They're all 'special edition' chips, available only at Walmart snack aisles.
Kettle Brand brings back Apple Cider Chips
Kettle Brand has brought back its popular Apple Cider Vinegar-flavored Potato Chips for a limited time. For a limited time, at selected outlets. Kettle's traditional nod to Fall…
And that's the skinny…
… On what will be making some of us fatter over the coming days and weeks. Right back here in 7 with another edition of Fast Food Week!
~ Maggie J.