Once again, a big, double handful of new delivery / takeout deals from major Fast Food Players. Perfect for the ongoing COVID-19 lock down, stay down situation. New, eat-'til'-you're-sick, limited time Cookie, Candy and Ice Cream classics. And something really special from France…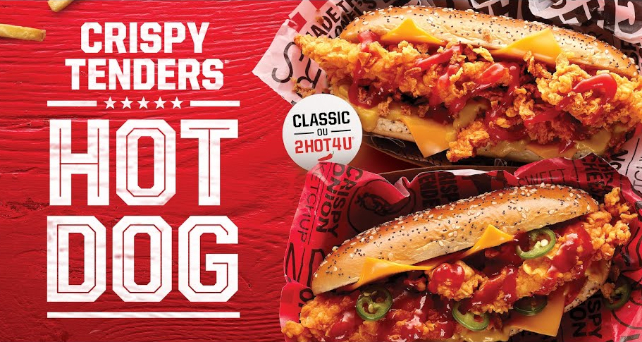 For now, only in France. But in the future… ?
Wendy's offers FREE '444' Deal
Wendy's is offering a FREE '4 for $4' meal when you place a delivery order of $10 or more via Postmates through August 31 – or until 44,444 offers have been redeemed. A couple of small catches: you'll need to enter the promo code 'SPICY444' at checkout, and you can only use the code once. The 4 for $4 deal can include your choice of either a Jr. Bacon Cheeseburger, a Crispy Chicken Sandwich, a new Spicy Crispy Chicken Sandwich, or a Jr. Cheeseburger, plus a 4-piece order of Chicken Nuggets, Jr. Fries, and a Value Drink. Get one while you can!
Panera splashes out 3 new Sammys
They called: the Smokehouse BBQ Chicken Sandwich; the Teriyaki Chicken Sandwich; and the Chipotle Bacon Melt. You can tell from their names what they have in them. Panera also has a new Salad and Soup: the BBQ Chicken Salad Sandwich; and Southwest Chicken Tortilla Soup. Panera is also offering $5 off an order of $20 or more when you order Panera Delivery, curbside pick-up, or at the drive-thru and use the code "SUMMERFIVE" at checkout. The deal runs through September 6, 2020.
Honey Sesame Chicken Bowl back at Panda Express
Panda Express has brought back its popular Honey Sesame Chicken Breast Bowl, for a limited time. It features wok-tossed Fried Chicken Breast Pieces, String Beans and Yellow Bell Peppers in a sweet Honey Sesame Sauce, topped with Sesame Seeds. That collation comes piled onto a Steamed White Rice base. This is just the latest of the top-rated bowl's appearances on the Panda's menu…
KFC France teases Chicken Tender Hot Dogs
They consist of a pair of Crispy Chicken Tenders on a toasted Sesame Seed Hot Dog Bun, topped with Cheddar Cheese, Yellow Mustard, Ketchup, and Crispy-Fried Onions. That's what they call the 'Classic'. The '2Hot4U' Spicy version adds a '2Hot4U' Sauce. KFC France first released these Sammys in the summer of 2019, for a limited time. Why have we not seen them in North America? You know what say at the ball park, where the Dog is king: "There's always next year!"
Ben & Jerry's leverages a trad classic
B&J's is going classic, leveraging one of our favourite flavours. The Ice Cream Giant is release Cinnamon Bun Cookie Dough Chunks and Gingerbread Cookie Dough Chunks as s set-up for the Holidays. But wait, you say: The Holidays are still officially 4 months away. The U.S. still has a Presidential election campaign and vote to go through before that. A problematic return to school has already caused deep divisions among parents, students and administrators. And the world financial crisis deepens as COVID-19 lingers and threatens a fall resurgence. What better time to leverage a flavour that's more comforting and more reminiscent of happier, childhood times?
OREOs also partners a couple of classics
The Cookie that loves to hit you with at-times-crazy new flavours several times a year is also getting ready to roll out something comforting and familiar. Java Chip OREOs will serve up regular Chocolate OREO wafer Cookies with a Coffee-flavoured Chocolate Chip 'Stuff'. Look for them nearer the end of the year.
Brach's celebrates Holidays with full-course Candy Corn 'meal'
Potato Chip makers have graced our palates with 'full course festive feast' flavour assortments of their products over the past few years, but none has come out earlier of more creatively than the new 'savoury' Candy Corn assortment from Brach's. It's described as a disti;l;lation of 'the quintessential Thanksgiving Turkey Dinner' including flavours such as Roasted Turkey, Green Beans, Stuffing, Ginger-Glazed Carrots, Cranberry Sauce, and Sweet Potato Pie. I dunno… What do you think?
And that's the skinny…
… On what's going to be making us all a little chubbier over the coming weeks and months. See you back here in seven for the next edition of Fast Food Week!
~ Maggie J.