Another week of high-level new-menu items and rare-item comebacks… Along with even more seasonal specials. There are even a couple of really-special specials associated with the World cup – on now in Qatar…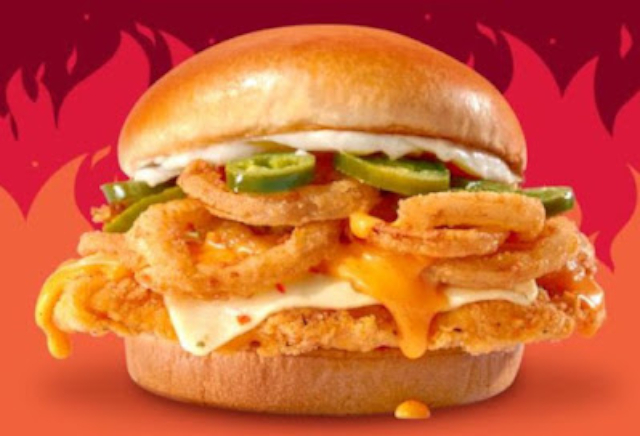 The amazing, warm-and-cozy looking Wendy's Fired Up Chicken Sandwich…
New Fired Up Chicken from Wendy's Canada
Listen closely…  This a really packed sammy! Starting with the usual breaded, deep-fried Chicken breast, Wendy's adds: pickled jalapeño peppers, a jalapeño cheese slice, Sriracha cheese sauce, crispy onion tanglers, and mayo. The plain mayo sounds like a shrewd choice which will smooth out the other hot and spicy flavours…
McDonald's Canada launches a Carolina BBQ Quarter Pounder
The 'Carolina' part refers to the sweet and tangy Carolina style BBQ Sauce on this new burger, which also features, "hickory smoked bacon strips, crispy onions, pickles, and two slices of processed cheddar cheese on a toasted sesame bun." (See photo, top of page.) Sounds good, though Carolina BBQ Sauce is usually associated with Pulled Pork not beef…
Carl's Jr. offers Big Carl Energy Special
It's a promo to kick of the Holidays, comprising a Really Big Carl Burger, a large order of waffle fries, and a large Orange Fanta fountain drink.
The Burger starts with 3 charbroiled beef patties on a toasted sesame seed bun, then adds three slices of American (Processed) cheese, lettuce and Classic sauce. Now through December 13, ordering using your Carl's Rewards Card gets you a big $4 bucks off the regular price.
Denny's gives away breakfast for 1 year
Denny's wants to raise awareness of food shortages and price hikes entering the Holidays with a special t-shirt promo. A very limited number of black shirts with yellow writing are being readied for release at just $5.99. Each shirt gives the wearer the right to claim a free breakfast every day for a year. That translates to a $$2,186 value! But there's a major catch: Denny's is only giving out 150 of the shirts. The shirts went on sale yesterday at midnight (12 a.m. EST/9 p.m. PST). Orders can be placed on DinerDrip.com.
"This year has been particularly tough on Americans' wallets," Denny's President John Dillon said in a news release: "At Denny's, we're always looking for new ways to provide value for our diners while delighting them with delicious food. So creating an innovative, first-of-its-kind wearable offer to unveil on Black Friday was a natural decision for us."
Taco Bell has new 7-Layer Nacho fries
It sounds like a great way to jazz up game day and any holiday gathering you might have planned!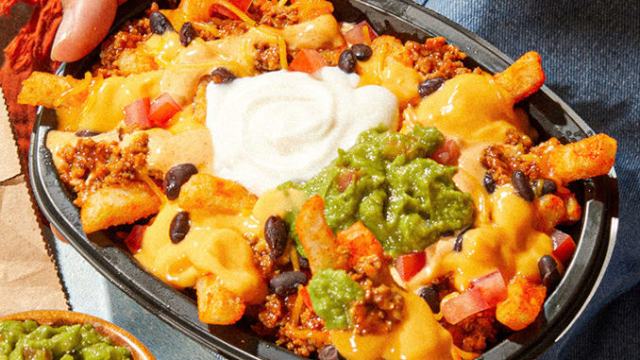 The new dip is constituted as follows: black beans, diced tomatoes, reduced-fat sour cream, warm nacho cheese sauce, Creamy Chipotle sauce, shredded cheddar cheese, seasoned beef, and guacamole – all on a bed of the Bell's seasoned fries. It's meant to showcase the Bell's new-recipe Guacamole…
Avocados From Mexico giving away Guac
It's another two-star promo in connection with the World Cup. Stars Landon Donovan and Rafael Marquez are headlining the event. If either the U.S. or Mexico make it to the WC final on December 18, AFM will give away free servings of Guac to registered promo supporters. Visit visit www.afmguacgiveaway.com now to see how you can participate…
Pepsi releases Nutmeg Royale flavour
It's a major multi-way promo involving globally famous soccer stars Lionel Messi and Christiano Rinaldo in a short video explaining and demonstrating the new soccer move, the Nutmeg.
All in the context of the World Cup. The new flavour is described as available in super-limited quantities and wasn't even released yet when this post was written. Watch Pepsico's social media channels for the big announcement…
OREO has more than just Cookies for Holidays
OREOs Snowballs are back! They're hard Milk Chocolate shells filled with OREO's cookie and creme filling. Also look for: Oreo Joy! Sandwich Cookies; White Fudge Covered Oreos; and Oreo Storybook Sandwich Cookies.
And that's the skinny…
… On what's going to making some of us a little fatter over the Holidays. See you back here in 7 for the next edition of Fast Food Week!
~ Maggie J.