Hand-held mains and snacks fill our headline stax and racks again this week. A sure sign that the major players in the convenience food market are expecting the COVID-19 pandemic proceed into the third wave that has already started in an alarming number of jurisdictions…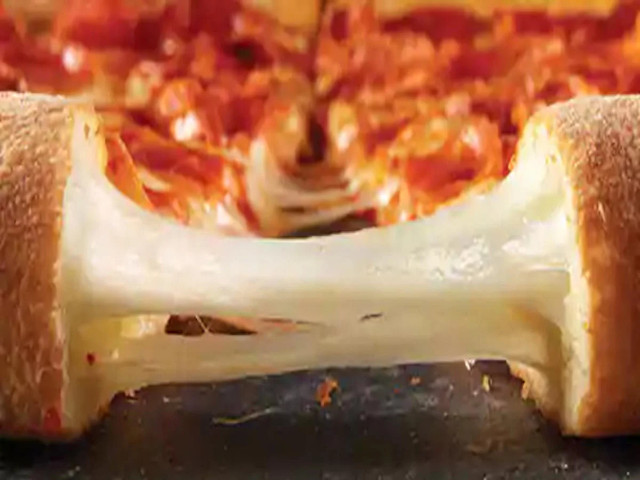 Papa John's Stuffed Crust…
Papa John's tests 'Epic Stuffed Crust' Pizza
According to the official picture, the New Papa John's release looks an awful lot like the ancient and venerable Pizza Hut Stuffed Crust Pie – the same Stuffed Rolled Rim. Nevertheless, they're taking it cautiously with a limited time test marketing release at selected locations in Kentucky, Ohio, and Texas. Of the other major Pizza chains, only the Hut and Little Caesar's are currently offering Stuffed Crusts.
Doritos adds Twisted Lime Flavourd Chips
Doritos appears to have hit a wall for how hot its customers can take its Hot and Super Hot Corn Chip offerings. Now, they're trying a new tropical twist – literally – with Twisted Lime. It's touted in the official news release as: "[T]he perfect combination of tangy and heat with a mouth-watering lime flavor that finishes with a kick. […] [With the] same intense citrus punch" as Doritos Flamin' Hot Limon, without the, "overpowering heat." Sounds like the perfect dipper for Guacamole or Pico De Gallo…
Taco Bell brings back 'Steal a Base, Steal a Taco'
The Bell brings back its 'Steal a Base, Steal a Taco' promo for World Series 2020. If a player steals a base during any championship a series game, fans can claim a free Doritos Locos Taco at their local Taco Bell on October 28. And they can claim their freebie even sooner if they use he Taco Bell app to go into the website and get a special code – which will be possible within a couple of hours after the base is stolen.
Chipole's goes virtual for its Boorito promo
From October 29-31, 2020, a total of 500,000 BOGO promotions will be dropped via Chipotle's TikTok, Twitter and Instagram accounts. There, you'll have to snag a keyword which ytou'll them have to test to 888,222, and in order to claim the deal, fans will have to quickly text the valid keyword to 888-222. This deal is only redeemable digitally via the Chipotle app or Chipotle.com on Halloween and once the advertised 500k are gone, that's it.
Reese's goes modestly gorey for Hallowe'en
Reese's brings you something new for Hallowe'en this year: what it calls a Franken-Cup Peanut Butter Cup. It's a large PBC with a 'Green Cup' on the bottom, the usual PB filling in the middle, ans the usual Dark Chocolate top layer. It's a suitably dialed down treat for a dialed down Hallowe'en celebration amid reinstated COVID-19 re-opening regulations. Oddly… They don't say what the Green stuff tastes like…
And Amazon Prime caters to Twizzler fans
Amazon Prime is offering a really big deal to fans of Twizzlers Licorice Twists: a huge 5 lb. / 2.27 kg resealable box for just (US)$12. Drawbacks? Only Strawberry flavour is available, but most folks buy Strawberry, anyway. Up sides? Amazon. There is a 30-pack of Skittles and Starbursts, as well as mega-boxes of Laffy Taffy, Rainbow Nerds Rope, Mentos Gum, and other sweets brands available.
And that's the skinny…
… On what is probably going to be making some of us fatter over the coming days and weeks. See you back here in 7 for another rundown of the latest offerings from the major players in the next edition of Fast Food Week.
Maggie J.