Hi, gang! it's time for our weekly look at announcements and releases from the Fast Food sector… This time, we hear from Burger King, Taco Bell, The Hard Rock Café and a guy who says he just set a new hot pepper eating record… The FF sphere is just bubbling with competitive activity…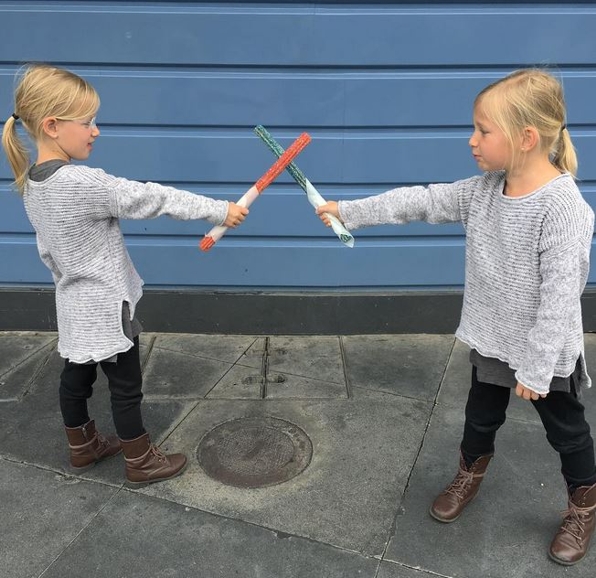 Disney Land Star Wars Light Sabre Churros, with twins for scale…
First, let's talk about the Pepper-eating Guy
We've mentioned Naga Bhut Jolokia – also known as Ghost Pepper – in this space before, many times. It's something like 40 times hotter than your normal, everyday Jalapeño. It's said one can put a person in hospital – even kill you. At best, severe burns result, sometimes injuries to your esophagus and stomach. Even perforations!
So what does it take to eat 13 of these killer hotties and live?
Ask Kevin "L.A. Beast" Strahle, who downed that many in under two minutes setting a new World's Record. That's nearly double the peppers by weight that the previous record holder managed in the same length of time…
Don't try this at home. Or anywhere.
Taco Bell brings back Naked Chicken
Taco Bell had introduced Naked Chicken Chips. They're triangular pieces of the same flat Chicken that was featured in the Naked Chalupa a while back. This time, they come in a Fry sleeve covered in Cheese Sauce. According to some pictures I've seen. you can also get chopped Jalapeños on top.
It's a limited-time test marketing release…
Burger King is bringing back its beloved Mac 'n Cheetos sticks
BK says it's bringing them back again, again for a limited time. Sounds like they're relying on a known winner to spike their sales in the face of of competitive initiatives. They're just like you remember them: Gooey Mac and Cheese inside a Cheetos crust. Go nuts!
Even Disney Land suffers from Menu Madness…
Disneyland's food offerings swelled by one more item this week: A Deep Fried Corn on the Cob / Waffle Skewer. it is pretty much what it says: A whole cob of Sweet Corn is generously Buttered, dipped in the same batter used for Disney's Corn Dogs, and deep fried. Then, it gets toppings of Cilantro Lime Mayo, Parmesan Cheese and a blend of spices. Just add some protein and you're away to the races!
Here we go again, Disney fans!
Disney Land is also offering a wacky dessert. It's a long Churro (Mexican doughnut' sprinkled with either red or blue crystallized sugar and served in a sleeve that looks like a Star Wars light sabre. No kidding. They look quite large. And they ought to be, selling at (US)$4.50 each!
Hard Rock Café adds 'Alligator Tail' Burger to menu
Hard Rock is featuring a new burger that you might consider a little taste of Florida… It's a standard Burger, but topped with a piece of deep-fried Gator Tail, Hearts of Palm, Tomato and 'Seminole Wing Sauce'. It's available at all Florida Hard Rock locations until the end of June.
Joining the Alligator Tail Burger on the Hard Rock 'World Tour' are a Korean-inspired Kimchi Burger and a Louisiana Jambalaya Burger. I'm betting there are more to come, over the summer…
And there you have it! The best of the best; the most notable of the notables. Tell your friends you heard it here, first!
~ Maggie J.