This week, we have a mixed bag, again… But it's an interesting one! In which we get the low-down on Dunkin' Donuts' new 2017 menu offerings and the latest on Starbuck's foray into the canned/bottled beverage market. Plus: Arby's goes Continental with 'Traditional' Greek Gyros…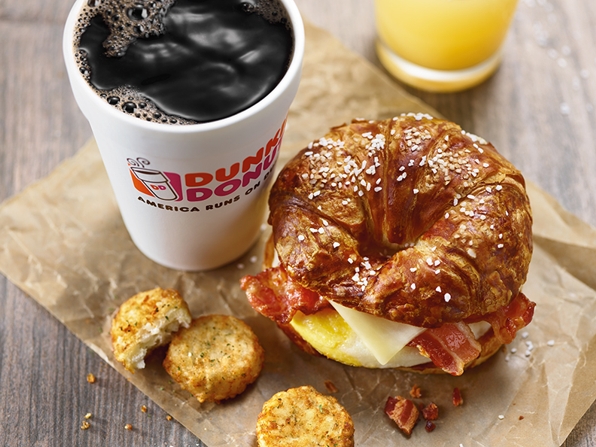 Dunkin' Donuts new Pretzel Croissant Breakfast Sandwich.
Starbucks tinkering with the Booze-aged Brew…
Starbucks is trying out a new, labour- and time- intensive brew at its flagship roastery location in Seattle. They're aging their Sulawesi Coffee, before roasting, in old Whiskey barrels. Then, they roast it, enhancing the flavour and burning off any alcohol that might have soaked in. They're serving it in two new menu items.
Barrel-Aged Cold Brew, is mixed with Vanilla Syrup and a big Ice Cube in a highball glass. Looks like Scotch Rocks.
Barrel-Aged Con Crema is described as, "Hot pour-over Whiskey Barrel-Aged Sulawesi mixed with barrel-aged vanilla syrup and topped with cascara sugar cold-foam topping." What have I been saying about menu madness? No word on what the new premium-premium brews cost.
Starbucks rolls out more bottled Brews
Seattle's original premium Coffee purveyor is rolling out a series of new canned and bottled beverages based on its signature Brews, including:
Bottled Dulce de Leche Frappuccinos
Cubano Doubleshot Espresso cans
Espresso and Salted Caramel Cream Doubleshot cans
Caramel Doubleshot Coffee & Protein cans
Multi-serve bottled Blonde Roast Iced Coffee
Multi-serve bottled Dark Roast Iced Coffee
They're at grocery stores almost everwhere.
Arby's goes Gyros!
Arby's is stretching its envelope a little in the direction of Europe with a new, limited time 'Traditional' Greek Gyro. It's available in Beef or Turkey and comes on a thick, Greek-style Pita. Haven't tried it yet, but it looks like a winner!
Dunkin Donuts unveils 2017 menu additions
Dunkin's has unveiled its 2017 menu additions. These are, apparently, not limited-time teasers, but all-year features:
Frozen Dunkin' Coffee
Coconut Crème Pie Iced Coffee
Pink Lemonade Coolatta®
Dunkin' Energy Punch Powered by Monster Energy®
Peanut Butter Delight Croissant Donut
Chocolate Pretzel Donut
Pretzel Croissant Breakfast Sandwich
In addition, a selection of faves from the past will be reintroduced starting March 27 (Monday). I really like the idea of the Breakfast sammy. I hope the reality lives up to my expectations!
'Food deserts' promote obesity
The U.S. Centers for Disease Control and Prevention have released a new report that shows 70 per cent of Adults 20 years of age or older in the nation are overweight or obese. More than half of them are, in fact, obese. That's horrifying to me, as a food service industry person and a professional Cook. But it turns out that cooking and what folks buy at the supermarket are not the problem. The fattest U.S. cities are described as Food Deserts, where there are few or no supermarkets where people can buy ingredients to cook themselves but lots of bodegas and corner stores, where folks can easily find processed, Salty, Fatty, and Calorie-laden convenience foods. Not to mention Fast Food outlets. No wonder the children are fat, too!
~ Maggie J.